Blog
A fund to foster innovation
Swiss Solidarity launched an innovation fund to support the Swiss NGOs to develop innovation within their projects. David Dandres, Humaniatrian Programme Manager at Swiss Solidarity, presents the fund and shares his vision of innovation.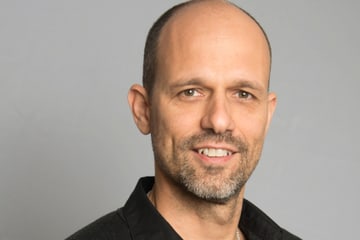 The origin of this blog article
At cinfo's 2019 Immersion Day "Shaping the organisation of the future", we asked 14 professionals why and how their organisations have taken the path of transformation. Their stories were told in different workshops on the topics of user-centric projects, new HR, digital tools and leadership.
Check out the 14 inspiring stories
David, you are responsible for Swiss Solidarity's Innovation Fund. What is the idea of this fund?
It is a support tool created by Swiss Solidarity to help Swiss NGOs develop innovation in their projects. Our ambition is to trigger changes in the way NGOs work, because they aren't used to taking risks. They have been rolling out their projects for many years and receiving funds for doing so. Our role here is to allow them to take time to think outside of the box. Our fund is there to bear the risk that NGOs wouldn't otherwise be ready to take.
Tell us about a success story of the innovation fund…
We are currently financing 7 projects. One success story is an ongoing project addressing the lack of ambulances in Mozambique to bring women to the health centre. The innovation here has been to create a taxi-ambulance company that transports people for profit during the day, but brings women who need to go to hospital for free.
What exactly is innovation?
You innovate when you stop for a moment to question your activity or project and explore alternative ways of doing it. It is a question of mindset; it is also about partnerships, and about creating space for new ideas to emerge. Remember that innovation is not a new concept: it is not a generational question and it does not only concern technology – it could be a service you are trying to improve.
What are the qualities needed to be innovative?
You need psychological skills: being open-minded, curious, being able to appreciate change and accept questions about your way of doing things without feeling criticised, enjoy working with people outside your usual circle. The good news? I don't think you are "born" innovative – it is something you can learn and teach.
You are not "born" innovative – it is something you can learn and teach.
Is there a key element of being an innovative organisation?
Innovation must be in the mind of management. If programme managers or coordinators innovate on their own, they will have difficulty communicating their ideas and generalising this mindset. Management must be convinced of the potential contribution of innovation. This does not mean that everything must change completely. It is a process that will develop slowly in the organisation's culture and that needs to be supported by the management.
Innovation is a process that will develop slowly in the organisation's culture.
When did you first become interested in innovation?
I am a newborn innovator. I have been working as a programme manager for many years, developing projects in the traditional way, but only in recent years have I begun to consider other ways of working and reflected on how we could improve the quality and impact of our projects.
What is your inspiration in terms of innovation?
The private sector has demonstrated the most radical changes in its approaches. The GAFA in the Silicon Valley have changed the way we communicate, the way we work, our daily life. The private sector is on top of it because they know that if they don't innovate, they die. For me, these players are true innovators. But we can't simply reduce innovation to this technological area. I am thinking, for example, of the people who invented microcredits in India 20 years ago, which enabled thousands of farming families to have access to bank credit – they were very innovative.
Is there a key tool or methodology organisations should use?
The best way to consider a project is to bring the end users together at the table and ask them questions: What could we do differently, what exactly do you need and how can we help you achieve this expectation? This ideation is key to developing innovation.
Bring the end users together at the table!
Our publication – to further inspire you