Blog
Design thinking: an innovative tool in the problem-solving toolbox of international cooperation
"Now go change the world!" was the opening line of the design thinking workshop at Forum cinfo 2022. Easier said than done, isn't it? But from an international cooperation perspective, we know that change is essential to achieve the Sustainable Development Goals set in the 2030 Agenda. But what tools are practitioners using?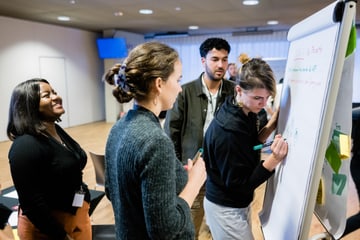 In a nutshell
As part of Forum cinfo 2022, a workshop for young professionals in international cooperation was held to provide an overview of how design thinking can be used and applied by professionals and organisations in the sector, and why it's becoming an increasingly ubiquitous tool.
Three senior User Experience (UX) Designers from the International Committee of the Red Cross (ICRC) facilitated the workshop. The ICRC uses design thinking in its operations and is very forward-thinking in its approach to innovation and design. The design team consists of seven UX designers based in Geneva and Nairobi, who work mainly on creating new or transforming existing internal processes and design of digital products and services.
First, what is design thinking?
Design thinking is a five-step approach to problem-solving: Empathise, Define, Ideate, Prototype and Test. It puts people (users) at the centre of the process and involves them in creating experiences, services and objects.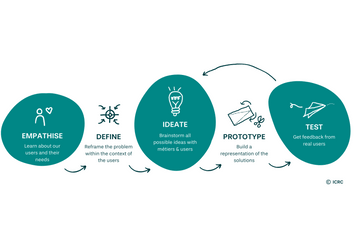 Why use design thinking in international cooperation?
In an international cooperation context, the design thinking approach can be instrumental, considering that people affected by the problems addressed are often marginalised and may not have a voice in the decision-making process. By using design thinking, professionals and organisations in the sector can gain a deeper understanding of the needs and perspectives of the people they are working with and create solutions that can truly make a difference.
Design thinking can help create solutions that truly make a difference.
Moreover, design thinking is a collaborative approach that involves working with different stakeholders. It can be useful in international cooperation, where complex problems often require input from multiple parties, including local communities, governments, NGOs, and international organisations. By involving various stakeholders in the design process, professionals and organisations can create solutions more likely to be accepted and implemented by all parties involved.
Finally, the iterative nature of design thinking means that solutions are constantly tested and refined based on feedback, ensuring that they remain adaptable and responsive to changing circumstances. It also facilitates testing ideas in low-risk, low-cost environments before implementation. This approach ensures that international cooperation efforts stay at the forefront of innovation and can respond quickly to emerging needs.
Many other innovation methods are available and already used in in international cooperation, so design thinking can be viewed as one tool in a comprehensive toolbox.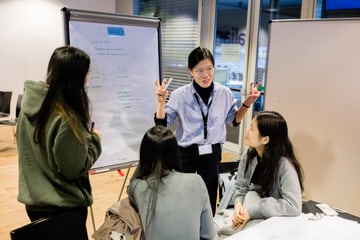 How is design thinking currently used in the sector?
Today, the ICRC's design team works mainly on digital software and technology projects to support ICRC staff and partner organisations (for example, developing an offline mobile application for doctors working in remote areas). The team also runs similar workshops for ICRC staff to teach them how to generate fast, innovative and more inclusive ideas through human-centred approaches.
There is potential for more design in humanitarian aid and international development.
One thing is clear: there is potential for more design in humanitarian aid and international development. The ICRC team confirmed that there is an increasing demand for their work internally but also anticipates growth in the design departments of other organisations. Design professionals mostly staff these departments, but many courses are available for humanitarian workers who want to develop their own design skills. Finally, NGOs such as Humanitarian Designers aim to bridge the gap between the humanitarian sector and young designers.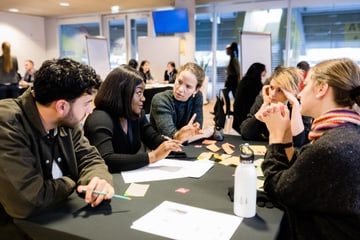 What did the participants do during the workshop?
It takes many hours or even days to learn how to use design thinking and, moreover, to go through the whole process. During Forum cinfo, the three ICRC facilitators focused on giving exercises for the following steps: define, ideate and prototype. The aim was to provide a first insight into the types of activities where design thinking can be applied.
Participants were divided into groups and asked to complete a series of exercises focused on the Sustainable Development Goals (SDGs). Activities ranged from: "How might we", "Crazy 8", "Idea Napkin", and "Art Museum". This highly structured and intense workshop encouraged participants to step out of their comfort zones.
At the end of the workshop, the different groups presented their prototypes to address the SDGs they had chosen. Of course, the aim was not to change the world in 90 minutes or to find a solution to achieve the goals. But it allowed the participants to test different ways of reframing problems, brainstorming solutions and prototyping representations of these solutions.
What are the takeaways?
The workshop gave participants an insight into how to approach problem-solving and how quickly we can generate ideas in a team. More generally, it demonstrated that design thinking is a method that is accessible to everyone across all sectors and that if you want to drive change in your environment, design thinking could be something for you.
If you want to drive change in your environment, design thinking could be for you.
Resources recommended by the ICRC team
Courses
Books
The Design of Everyday Things by Don Norman
Don't Make Me Think by Steve Krug
Sprint: How to Solve Big Problems and Test New Ideas in Just Five Days by Jake Knapp