Blog
How competitive is entry into international cooperation, and how does that compare to climbing?
Who would have thought that starting an international career is not much different from standing in front of a climbing wall? It's about finding your own route and not getting intimidated by others.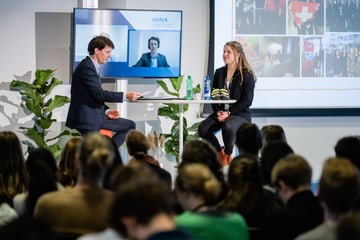 International careers and climbing
Finding the way to a career in international cooperation is an exciting and challenging one. Many factors play a role, and competition in this sector is fierce. However, this should not be a deterrent but rather an incentive to develop, challenge and stand out from the crowd by following your own individual path. Our author, who visited Forum cinfo 22, explains why we can compare it to climbing and what equipment you need to master this "sport".
A revelation at Forum cinfo 22
Many actors in international cooperation met at the Forum cinfo 22. You could think it was divided into two camps: those who have already "made it" and those who would like to "make it" into the professional field of international cooperation. For the former, the dream has already come true. For the latter, it could be perceived as a high wall that can only be climbed with difficulty while at the same time facing strong competition. But it is not like that at all, as I later found out.

The "Finding your way into international cooperation" session appealed to me directly. Sitting down, I was irritated not only by the climbing shoes that one panellist had placed prominently on the table but also by how young those who had "made it" were. I felt a certain uneasiness when I considered that I, at 25, should "step on the gas" if I also want to be at the same point as the speakers. But after the session, one line stuck with me. One of the panel speakers, Marie Thomet, said, "Finding your way into international cooperation is like climbing. You are standing in front of a 50-metre wall, and there are many different routes. The challenge is to find yours."
Getting started
So, imagine you are standing in front of this wall. What do you need to climb it? To put it very simply, it first takes the will to get up there. One should be aware of why you would like to do this. Do I want to be part of making the world a more just place? Do I want to take an active role in combatting hunger and poverty? Do I want to stand up for equality? There are as many reasons to want to work in international cooperation as there are problems to solve in the world. Be aware of your niche and where you want to make an impact. Write it down on paper and put it in your pocket when you start the climb. That way you stay focussed.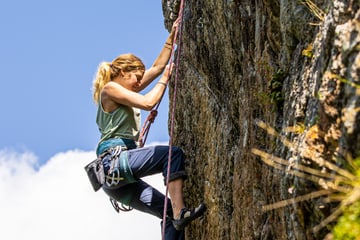 Finding your way into international cooperation is like climbing. You are standing in front of a 50-metre wall, and there are many different routes. The challenge is to find yours.
The equipment and strength training
Now for the equipment – you won't get very far without climbing shoes, rope and a harness. Find out what's required for the route. Do you need technical knowledge? Should you have an understanding of economics and market developments? The strength is knowing what you already have and what you still need. You could find out by looking at a job advertisement for your dream job. Do you have to have at least one year of experience abroad? Then search where you can get it. Do you need to speak one of the official UN languages for the job? Take a language course. All the equipment you require to move forward is identifiable and findable. Finally, you need to build up strength and train. Without training (unless the person has legendary talent), a person has never sprinted up a wall before. This means that the more you work on your skills, broaden your knowledge and dive into different topics, the stronger you become. This will pay off when you apply for jobs. It shows that you mastered your skillset, making you stand out from the crowd.
Don't fear the competition
It is important not to lose heart when it comes to competition. The fact that the competition is fierce is clear to many. That shouldn't be a deterrent but rather indicate that we can't all climb the same route; we would get in the way of each other. Instead, we should exchange ideas, because maybe the person to your right has found a different climbing technique that could also be applied to your route. Here's a piece of advice I'm sure you've heard repeatedly: networking is key. It gives you new ideas and can open doors you didn't even know existed.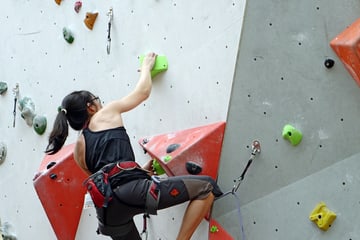 Stand out! Don't follow the route someone else has taken
Ultimately, this brings us to the most critical point: standing out. Because others are already up there doesn't mean you have to increase your speed. Because then you'll just get carried away. It's the same with climbing. One handhold and one foot placement at a time, one after the other. Comparing doesn't help because everyone has found a different way to climb. Others, too, may have had some advantages, be it flexibility or strength. You will stand out by going your own way. Identifying your strengths, training your muscles and becoming flexible will ultimately lead you on a certain route that fits you best.
But just like climbing, you can't always do it alone. That's where cinfo's coaches come in. They will be your personal team supporting you with career counselling, and showing you what "equipment" you need and where to "train".