Blog
How our employee Simon became a digital nomad
A private sector company outlines the benefits and obstacles of mobile working. Get inspired.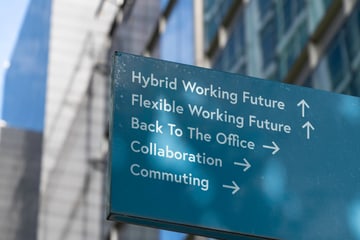 Why a series of blog posts on flexible work arrangements?
Work-life balance is a societal issue of particular relevance in the field of international cooperation, as dual careers at international level, in challenging contexts or with frequent changes of duty station, require more flexible working conditions.  
Unfortunately, these models are not yet widely applied. cinfo has sought out "success stories" from within and outside international cooperation to illustrate them in practice and to serve as inspiration for employers and employees.
Our storytellers share their experiences with you.
Nexplore's story
We follow the principle of "Safe enough to try". Our openness but also the need in dealing with flexible working models makes it easier for us to engage with this topic on an ongoing basis. We can therefore anticipate the needs of our employees, taking into account their life situation, while at the same time being aware of the challenges.
We follow the principle of "Safe enough to try".
In 2015, we were confronted with Simon's request. Simon wanted to spend longer periods travelling without losing touch with his IT-job-environment, including the fast-paced IT technology. For our part, it was important to keep Simon on our team. His request unconsciously led to the work model of the digital nomad. Simon could continue to work for us to a certain extent, independent of the location, whilst realising his desire to travel abroad.
Simon's request unconsciously led to the work model of the digital nomad.
Since this model was a first for us with no prior experience, the project was initially set for six months with an option to extend. We also agreed to evaluate the situation regularly and, if necessary, make adaptions. The decisive factors were to meet the needs of both sides and to take the customers' requirements into account.
As a software engineer, remote work can be very easily accommodated. Digital nomads can usually work from anywhere with just a few minor provisions. We did not note any adverse effects on the daily routine or customer service.  
It was a very positive and educational experience for all of us. Other employees have now joined Simon working remotely from time to time.
Conditions for digital nomadism
Remote working also poses challenges. It requires action and prior clarification – be it from a business point of view or an employee's point of view.
The following points are particularly important:
Good planning in advance (transfer of work, knowledge transfer)
Determining contactability (time difference)
Keeping in touch – regular conversations at short intervals
Internet connection and access abroad
Willingness to compromise + flexibility (job content and responsibilities change. Certain tasks that require immediate response, for example, can no longer be undertaken)
Verifying customers' requirements and possible limitations
Data protection
Tax and labour law issues
Social security matters
Maintaining a network - keeping in touch
Be committed and invest time keeping up to date (e.g. facilitates reintegration on return)
You decide when, where and how you work – exactly in the way that best suits the current project and your life situation.
How could the organisation benefit from this model?
Forward-thinking planning is generally a learning process and of great benefit to everyday project management (irrespective of the working model)
Knowledge and responsibility are distributed among several people. This reduces cluster risk allowing employees to develop further
No loss of knowledge resulting from dismissal
Employees are satisfied and feel valued
Life experience and broadening of horizons is profitable all round
Leaving the comfort zone – dealing with new situations or circumstances and finding viable solutions