Information and networking events
Hybrid Forum cinfo 2022
Every two years, the professional world of Swiss international cooperation meets at Forum cinfo, organised by cinfo on behalf of the Swiss Agency for Development and Cooperation (SDC). The current crises and the escalation of specific trends have largely influenced the themes of the 2022 event.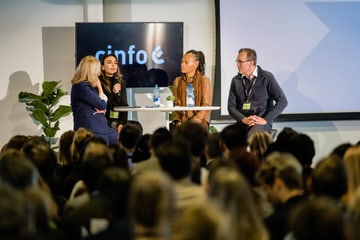 In light of societal changes, Forum cinfo reinvented itself
Climate change, human displacement, growing inequalities, accelerating technological progress and digitalisation: the professional world of international cooperation is on the front line of observing and experiencing profound societal changes. These developments are forcing a reevaluation of the sector and the reinvention of professionals to meet the needs of affected populations worldwide.
These issues were on the agenda of Forum cinfo 2022 on Friday, 11 November, in Bern and online.
At the heart of Forum 2022 were the following questions: What will international cooperation look like in the future? What to expect in the next ten years? What new competencies (expertise, skills and attitudes) will enable us to anticipate and better respond to the world's needs?
New topics from the IDGs to localisation
More than 30 speakers – qualified international professionals and research experts – took the stage to share their personal experiences, testimonies, research findings and recommendations. A new trend among these is the "Inner Development Goals" (IDGs) concept. This is a set of attitudes and responses to which the individual application should contribute to achieving the Sustainable Development Goals (SDGs) by 2030. Another example is the impact of 'localisation' – the process by which international organisations transfer more decision-making power and resources to local actors – on the role that professionals from the Global North have to play today.
Through these new topics, Forum cinfo reached around 1000 visitors: experienced professionals in international cooperation, those seeking a professional transition to the sector, and young talent who will shape the cooperation of tomorrow.
In addition, some 50 employers and training institutions related to the sector presented themselves at the career fair.
Setting the scene
This session sets the tone for the conference programme. Learn about trends and challenges in international cooperation, such as localisation and the shift of power to the "Global South", digitalisation and - last but not least - the new skills needed to work in the sector.
It includes a rich exchange of perspectives between the head of the SDC, the CEO of one of Switzerland's largest foundations, and a young expert in digital rights.
Speakers: Patricia Danzi, Stefan Germann & Marwa Azelmat
Localisation - can you still contribute as a professional from the Global North?
In international development, the process of handing over more decision-making power and resources to local actors is called localisation.
At the forum, Shazia Islamshah and Pascal Bijleveld, as humanitarian and development professionals, shared their personal experiences and opinions on this topic.
How competitive is entry into international cooperation?
Who would have thought that starting an international career is not much different from standing in front of a climbing wall? It's about finding your own route and not getting intimidated by others.
Professionals in international cooperation - finding the right balance as a family
People interested in a career in international cooperation often have questions about how this type of career can coexist with their desire to start a family. Liliana de Sá Kirchknopf, Head of Private Sector Development Division at SECO and Victoria Martinez, Humanitarian Affairs Officer and Head of Coordination at OCHA Cameroon, share their experiences and insights on this topic.
On the importance of keywords in UN applications, and more tips on how to get hired
All who have considered applying to the United Nations have certainly heard about the fierce competition. We ask an expert to explain how you can make your application stand out and be a success.
Accessing social security in an unpredictable global career situation
At the beginning of our international careers, we tend to disregard social security, but later wish we had addressed this subject earlier. It is crucial to consider social security as early as possible, for instance, when assessing job opportunities and choosing employers.
Networking: no need to panic
More than just a few of us are uncomfortable with networking. We want to connect with others, but for many this means leaving the safe but 'lonely' comfort zone. At Forum cinfo 2022, a theatre group helped participants to experience first-hand the obstacles that prevent them from communicating with others and the tools that can help them.