Blog
"I felt keenly the weight of responsibility as I went about my duties", Omar Azzabi
Omar Azzabi spent one year in West Africa as part of the talent programme "Swiss Youth at the United Nations". He talks us through some of his most memorable moments.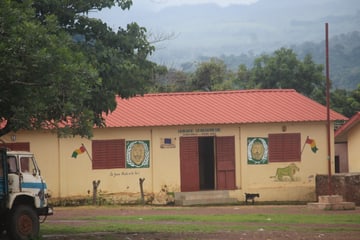 About the talent programme
Each year, the Swiss Government funds around 30 one-year positions within the talent programme, "United Nations Youth Volunteer (UNYV)". This programme allows young professionals to gain valuable field experience while contributing to the Sustainable Development Goals. Swiss nationals, under 29 years old and holding a master's degree, are eligible for this unique international opportunity.
Learn more
If you need to appeal a legal case in Guinea, it can take up to eight months just to be heard by a judge. Often, people living in remote areas have no means of reaching their regional capitals to appear in court.

Since the end of military rule in 2010, Guinea has been working to remedy these challenges and to reintroduce judicial and correctional institutions that meet its international commitments, including the Convention against Torture and Other Cruel, Inhuman or Degrading Treatment that it ratified on 10 October 1989.
As a UN Youth Volunteer with the West African Regional Office of OHCHR in Dakar, I was responsible for paying unannounced civilian visits to prisons and police in the Upper Guinea region in Kankan, Siguiri, Mandiana, Kérouané, Dabola and Dinguiraye to monitor prisoner conditions. I visited more than 12 gendarmeries, police stations and civilian prisons in Upper Guinea. Our team met with 78 suspects and detainees, questioning them on the conditions relating to their health, hygiene, medical care and nutrition. We also took the opportunity to remind the security and police forces of Guinea's obligations regarding the rights of prisoners.
As a member of the OHCHR team, I felt keenly the weight of responsibility...