Swiss presence in multilateral organisations
Interview and Assessment Centre Preparation for Jobs in Multilateral Organisations
For Swiss nationals invited to an interview or assessment centre with one of cinfo's 20 focus organisations - offered free of charge.
When applying for a job with the United Nations or multilateral development banks, both highly competitive international environments, the trick is to pinpoint the matches between what is being sought by the organisation and what you bring. Our coaches adopt the recruiter's perspective and prepare you specifically for your upcoming interview or assessment centre.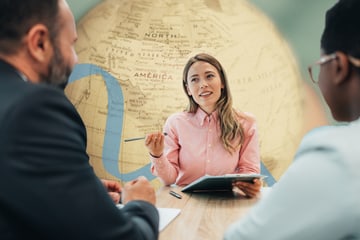 Location
Biel-Bienne or online
Duration
60 minutes/session
Languages
English
French
German
Spanish
Price
CHF

0
Cancellation:
up to 48 hours before your appointment
Register now
Get in touch

Our 20 focus organisations
As a member state of the United Nations and a stakeholder in international financial institutions, the Swiss Confederation is striving to increase the presence of Swiss professionals in various multilateral organisations:
See our 20 focus organisations
Free interview preparation and assessment preparation is part of a broader range of support services aimed at positioning Swiss nationals in multilateral organisations:
Learn more
This support allows you to prepare for a successful interview or assessment centre, free of charge.
Interview preparation at a glance
Information on the interview processes used by the UN and international financial institutions, such as competency-based interviews
Addressing strengths and weaknesses, or other questions you feel uncomfortable with
Interview practice
Exceptions
Interview preparation cannot be offered for free in the following cases:
You have applied to another than the 20 focus organisations
you have applied for a General Service Staff position
You are not a Swiss national
You are applying for one of these junior programmes: Swiss JPO, Swiss UN Youth Volunteers, Swiss Youth Volunteers at the World Bank. 
Our coaches
Our coaches have many years' experience of working in international cooperation, in-depth knowledge of the sector, and expertise in counselling and coaching. They are in regular contact with employers.
Registration
We are flexible
Do you have a specific request, can't find a suitable appointment or need more information?
Give us a call: +41 32 365 80 02