Working at the United Nations
Opportunities and challenges of working at the United Nations
Why work for the United Nations? And what challenges could you face? Find out more about this type of employer and the job opportunities.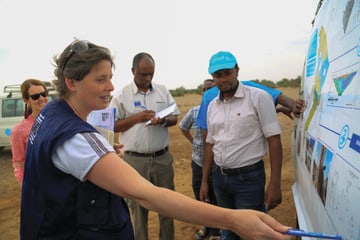 A unique opportunity
The United Nations offers a broad range of employment opportunities for professionals with diverse backgrounds, aspirations and aptitudes. 
A career with the UN can offer a fulfilling environment that gives you satisfaction by contributing to peace and security, human rights, and sustainable human development. 
The UN allows you to work in different countries and get to know different cultures as part of a challenging, global and diverse work environment, with people from all over the world working towards the same goals. 
... with some challenges
Working conditions at the United Nations may present challenges. Examples are lengthy application processes, complex bureaucratic structures, and duty stations that for security reasons may not allow family accompaniment. 
Job security is also not a strong point of the UN as assignments are usually of limited duration and further employment is often subject to budgetary constraints and political decisions of member states. 
The UN requires its workforce to be flexible, geographically mobile, and available often at short notice throughout the entire career. 
Social Security can also become tricky to navigate in the longer run as you leave your national social security system to join the one of the UN (the two systems being separate from each other without interlinkages). 
Focus work areas
UN organisations and specialised agencies are mandated by member states and aim to achieve the Sustainable Development Goals by 2030.  
This variety of fields offers exciting and challenging employment opportunities for qualified professionals with diverse backgrounds, skills and aspirations. 
These opportunities are offered in a variety of fields, including: 
management and administration (including finance, audit, human resources) 
economic, social and development 
political, peace and humanitarian (including human rights, elections) 
information and telecommunication technology 
law and governance 
partnership development 
public information and communication 
security and safety 
supply chain and transportation (including procurement, logistics, engineering) 
public health 
environment and climate change 
Our services – to take you further
cinfo supports Swiss professionals considering a career with the UN or a development bank, and those already in the system: