Career support
Application Support for Jobs in International Cooperation
Our coaches advise how to improve your job application and/or prepare you for the interview.
Are you applying for a job at the United Nations, a development bank, the Swiss Confederation, an NGO or a private foundation? Or have you been invited for an interview? International cooperation is a field with many highly qualified candidates. When applying, stand out from the crowd: pinpoint the matches between what is being sought and what you bring. Our coaches review your application from a recruiter's perspective.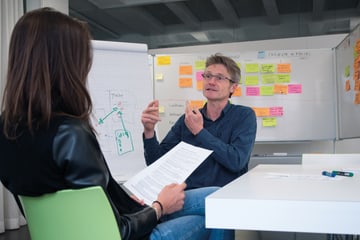 Location
Biel-Bienne or online
Duration
60 minutes/session
Languages
English
French
German
Spanish
Price
CHF

180
Cancellation:
up to 48 hours before your appointment, you will receive a 95% refund
Register now

Get in touch
Welcome Desk & Coordination
Examples of situations and questions
You want to assess the extent to which the job description matches your profile. You would like to clarify your motivations in applying.
Writing a job application
You want to give yourself the best chance of getting an interview, whether for a junior, mid-level, senior or management position.
Preparing for an interview
You have been invited to an interview and want to increase your chances of success. Preparation and practice are key.
Our support enables you to better present your fit with the job you aspire to.
Job application support at a glance
Review of your application

Interview preparation

Comparison between job description, your profile and motivations
Feedback on CV, cover letter, specific application documents such as P11 forms
Potential for optimisation

Information on interview processes including competency-based interviews
Addressing strengths and weaknesses, or other questions you feel uncomfortable with
Interview practice
Our coaches
Our coaches have many years' experience of working in international cooperation, in-depth knowledge of the sector, and expertise in counselling and coaching. They are in regular contact with employers.
Free interview support for Swiss nationals applying to selected multilateral organisations
You have been invited to an interview and want to get ready for it. If the employer belongs to one of our 20 focus organisations, this support is free of charge. 
Learn more
Registration
60-minute session, onsite
Review of your application documents, or interview preparation.
Register now
60-minute session, online
Review of your application documents, or interview preparation.
Register now
2-hour package (2x60 minutes)
Review of your application documents, potentially followed by a second round of feedback on your application, or interview preparation.
Order and book your first session
We are flexible
Do you have a specific request, can't find a suitable appointment or need more information?
Give us a call: +41 32 365 80 02