Career support
Insight Day
Explore your opportunities for working in international cooperation.
Interested in a career in international cooperation but need guidance on where and how to start? Not sure if this is the right sector for you? The Insight Day is designed for professionals from other sectors (career changers), graduates and students. During this one-day workshop, you will gain an overview of the labour market, get to know different employers, understand job requirements and explore career opportunities. You will have the opportunity to reflect on your motivation and make more informed decisions about your options.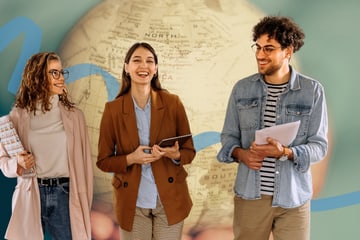 Location
Bienne, Yverdon, Lugano or online
Languages
English
French
German
Italian
Price
CHF

100
incl. drinks, snacks and standing lunch.
Early bird: 
registration until 14 days before the workshop: CHF 80
Cancellation:
up to 48 hours before the appointment, you will be refunded with a deduction of CHF 50
Register now
Get in touch

Topics
Job market: who are the main actors in international cooperation?
Gain a better understanding of international and Swiss-based organisations and their activities in the field of development cooperation, humanitarian aid and peacebuilding.
The range of jobs: wide and varied
Working in international cooperation can vary greatly depending on your function, area of work, employer, location, etc. Find out why jobs in the sector are so varied.
Requirements: do you have what it takes?
Assess whether you have the essential criteria for a job in an international organisation and find out what you can do to meet these requirements in the future.
Your motivation: what makes you tick?
Reflect on what motivates you to work in development, humanitarian aid or peacebuilding.
Entry and career opportunities illustrated by case studies
Find out how other professionals entered international cooperation and how their careers developed.
Advice: what next steps should you take?
Find out what steps you can take to pursue a career in international cooperation.
Who can benefit
Career changers who want to use their experience and skills to contribute to international cooperation
Young professionals with or without experience in international cooperation
Graduates and students
I appreciated receiving so much useful information in one day, as well as valuable personal advice.
Insight Day participant
A participatory workshop
The workshop combines a variety of methods and materials, ranging from information, portraits of professionals and plenary discussions to individual work.
You will have the opportunity to discuss specific situations individually or in groups.
Our advisors and international cooperation experts will be with you throughout the day.
Registration
20.10.2023, Journée d'information et inspiration
Explorez vos opportunités de carrière dans la coopération internationale.
Register now
17.11.2023, Informations- und Inspirationstag
Entdecken Sie Ihre Möglichkeiten, in der internationalen Zusammenarbeit aktiv zu werden.
Register now