Training
Learning Journey into Leadership for Young Changemakers
Do you have world-changing ideas but don't know where or how to start? Are you born after 1992, driven and passionate about leading the world to a better future? Are you ready to embark on a Learning Journey with a diverse group of peers?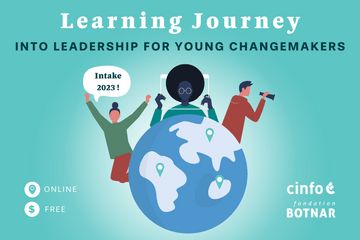 The Learning Journey into Leadership, which is completely free of charge, is aimed at young people, especially 'future changemakers', who want to start a project to bring about positive change in their living or working environment.
An initiative of cinfo, supported by our partner Fondation Botnar, this programme will help you grow your leadership style, sharpen your vision and develop the skills you need to make a positive difference.
Start date: May 2023
The Learning Journey will be delivered entirely online in two segments (01 to 12 May 2023 and in October 2023), with individual and group work in between sessions. The programme will require approximately 50-60 hours of work from participants.
Apply for the Learning Journey
Interested in applying? You will need to provide:
your updated CV
a motivation letter (max. 1 page)
Selection criteria
Candidates will be selected on the basis of their CV and motivation letter. Short-listed candidates will be invited to an individual online interview to demonstrate their motivation and English language skills.
cinfo seeks to ensure a balanced geographical representation, gender and age of the participants.
Candidates who are not shortlisted or who are unsuccessful in the interview will be informed in writing before April 2023.
Conditions of participation
Participants must be under 30 years of age (born on or after 1st January 1993).
They must be nationals or residents of Colombia, Ecuador, Egypt, Ghana, India, Indonesia, Morocco, Romania, Senegal, Switzerland, Tanzania, or Vietnam.
Participants can be studying or working in one of the above countries.
Technical requirements: a stable internet connection, a computer with a camera and microphone, and access to Zoom (software).
Priority will be given to candidates who have never participated in a similar programme.
At the end of the Learning Journey, a certificate of participation and a micro-grant of CHF 500.- will be made available to the participants who have fulfilled the following conditions:

participated in 80% of the online sessions (May and October),
submitted a concrete project aimed at improving something on the personal or the collective level,
attended a one-hour individual coaching session with one of our facilitators,
participated in an action learning group during the summer months,
submitted a learning report at the end of the journey.
Please note: The Learning Journey focuses on personal growth, mindsets and attitudes. It doesn't provide you with ready-made solutions, business plans or recipes for starting your business.
Testimonials from past participants
Expected take-aways
"
At the end of the programme, I know which direction I want to take my journey: I'm aware of my driving forces.
"
"
I've identified areas where I want to lead: my vision is sharpened, discriminating and selective.
"
If you commit and participate with all your heart, the programme will help you to:
clarify your intentions, both personally and collectively,
identify your core values and strengths,
sharpen your self-awareness,
develop your communication skills in a multicultural environment,
stimulate your creativity and your courage to step out of your comfort zone,
develop attitudes and acquire tools that you can apply and experiment with in your own context,
network with a diverse group of young changemakers from around the world.
"
I can express my vision in plain language: my mission statement is developed and my purpose is communicated.
"
"
I've identified stakeholders to engage with and approached potential partners and organisations.
"
"
I've drawn up a concrete, personal action plan for the coming days, months and years.
"
Your contribution
What the programme asks of you
To ensure that you and the other participants enjoy the benefits of the programme, you need to commit to and follow some rules and principles. Watch the video to find out more.