Networking events
Join Forum cinfo 2022 as an educational institution
Forum cinfo, the Swiss event on work and careers in international cooperation, offers your institution an effective platform to reach your target audience.
11 November 2022, Wankdorf Stadium, Berne
Meet professionals interested in further education and young talent seeking a career in international cooperation. Inform them about relevant courses offered at your institution, and become part of a vibrant network.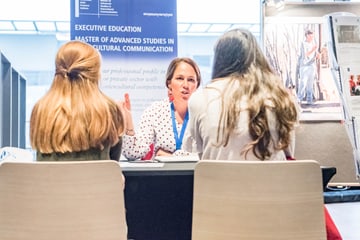 Reasons to join
Spark people's curiosity to learn
Engage in discussion with experienced professionals and young talent – communicate about the importance of lifelong learning and its relevance to their work, profile and career development. 
Reach prospective students
From short courses to postgraduate degrees – help prospective students design their own learning journey.
Be part of a vibrant network and get new inspiration
Keep abreast of current and future trends in management and labour market, share knowledge and experiences with your peers in organisations and other stakeholders.
Select a package for your event appearance
Package XS – Stay discreet
Members: 300 CHF (incl. VAT)
Non members: 500 CHF (incl. VAT)
Your own minimal booth at the career fair (1 unit, 2x2.5 m)
Participation in the catwalk – "pitch your institution"
Lunch for your booth staff 
Access to conference, incl. sessions for HR professionals
2 tickets to distribute to your employees or clients to attend the event
Package S – Get noticed
Members: 600 CHF (incl. VAT)
Non members: 1000 CHF (incl. VAT)
Your own regular booth at the career fair (2 units, 4x2.5 m)
Participation in the catwalk – "pitch your institution" 
Lunch for your booth staff 
Access to conference, incl. sessions for HR professionals
4 tickets to distribute to your employees or clients to attend the event
Package M – Attract attention
Members: 990 CHF (incl. VAT)
Non members: 1650 CHF (incl. VAT)
Your own highlighted booth at the career fair (3 units, 6x2.5 m)
Participation in the catwalk – "pitch your institution"
Lunch for your booth staff 
Access to conference, incl. sessions for HR professionals
6 tickets to distribute to your employees or clients to attend the event
Cancellation policy
In case of cancellation on your part, you will be refunded the following percentages of your paid amount:
95% refund in case of cancellation less than 45 days before the event
50% refund in case of cancellation less than 21 days before the event
No refund in case of cancellation less than 7 days before the event
We are here to help

Get in touch
Stakeholder, Event and Information Management

Get in touch
Jennifer
Hauser-Seiz
,
cinfo