Blog
Médecins sans Frontières: "How we pioneered job sharing in our field programmes"
Médecins sans Frontières introduced job sharing in Iraq and reduced the turnover rate for this complex position.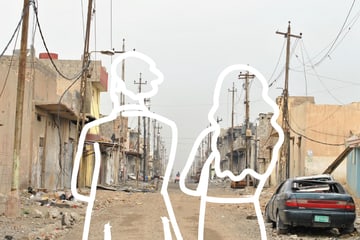 Why a series of blog posts on flexible work arrangements?
Work-life balance is a societal issue which is very relevant in the international cooperation sector, as dual careers at international level, in difficult contexts or with frequent changes of duty station, require more flexible working conditions.
Unfortunately, these models are not yet widely applied. cinfo has sought out "success stories" from within and outside international cooperation to illustrate this model in practice and to serve as inspiration for employers and employees.
Our storytellers share their experiences with you.
Roya's story about flexible work arrangements
At Médecins Sans Frontières, finding people for our programmes in highly insecure environments is a challenge, and can result in high turnover rates. This has negative impact on team stability and institutional memory. Working in such stressful conditions expose our managers to complex situations in terms of networking, security and HR management, in addition to managing day-to-day activities.   
This was the case for the position of Head of Mission in Iraq. During 2017, the position was, at times, vacant and had an extremely high turnover rate. By introducing the job-sharing model in Iraq as a pilot project in 2018, we were able to mitigate the turnover rate to zero for two consecutive years.
What made this work? There was an initial period of matching potential candidates. Once the pair was selected, they agreed to work on a 2-month rotation. Both people were employed at 80%, partly at the mission and partly from their home country.
The two Heads of Mission complemented each other by working in tandem. They played the role of operator when they were in the mission country and the role of support when they were working from their home country. By taking turns, each of them was able to experience both roles respectively.  
This new working model has enabled greater stability, improved corporate memory and reporting, networking and enhanced management capacity. At the same time, the tandem partners have benefited from greater flexibility in balancing work and private lives, as well as being in a less lonely position in such a challenging context.
Job sharing is almost like a marriage contract: the two people need to align in essential aspects.
Positive impact
Increased possibility of deployment leading to enforced stability in mission
Preservation of institutional memory
More contact with the external environment
Better networking
Increased capacity due to accumulated professional experience
Less isolation in the position
Remaining challenges
Duration: two months is too short in terms of work pressure and setting tasks
Increased fatigue due to frequent travel
De-prioritisation of certain dossiers
Differing ways of working and management style
Regular exchanges to avoid the loss of information
Difficulty in disengaging from operation role while working from home
Our services – to take you further