Blog
"Mutual learning, action and enthusiasm", Amanda Eyer
Amanda Eyer spent one year in Ecuador as part of the talent programme "Swiss Youth at the United Nations". She talks us through some of her most memorable moments.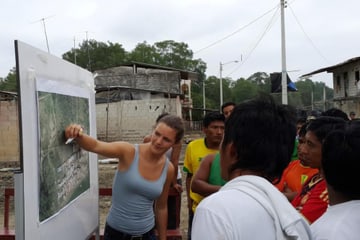 About the talent programme
Each year, the Swiss Government funds around 30 one-year positions within the talent programme, "United Nations Youth Volunteer (UNYV)". This programme allows young professionals to gain valuable field experience while contributing to the Sustainable Development Goals. Swiss nationals, under 29 years old and holding a master's degree, are eligible for this unique international opportunity.
Learn more
Among this year's many enriching experiences as a UN Youth Volunteer, two particularly stand out. Participating in the organisation of the first National Urban Forum in Ecuador was one of them. The other was learning about the most immediate needs of communities living under very poor conditions in the Gulf of Guayaquil. In many ways, I equate these experiences with the essence of the mission of a volunteer.

An experience away from home is challenging, a confrontation with a different culture at times confusing, and the lack of familiarity frustrating. I believe that during my year-long UN Youth Volunteer assignment in Ecuador, all stars were aligned: rarely did I deal with any of the above.
The Andes, the city in its midst, and my host institution, the Ministry of Urban Development and Housing, greeted me with open arms and slowly taught me the tips and tricks of living and working in Ecuador.
My UN Youth Volunteer assignment was funded by the Swiss Agency for Development and Cooperation and took place through UN Habitat Ecuador. UN Habitat Ecuador and the Ministry of Urban Development and Housing collaborate on certain urban planning issues.
A main focus of this partnership is to...