Blog
"My job at a UN agency", Jeremias Blaser
Meet Jeremias Blaser, Deputy Country Director for UNDP in Ghana. Learn more about his position and career path.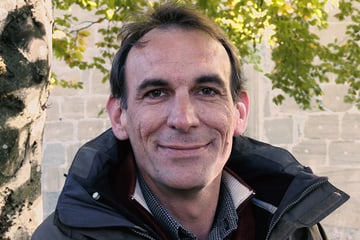 Jeremias Blaser at the time of writing
Age
44
Position
Deputy Country Director, UNDP, Ghana
Education
Doctorate in political science
Most significant jobs to date
Research fellow at the Institute of Federalism, University of Fribourg
Programme manager, UNV, Bonn (2 years)
UNDP Assistant Resident Representative, Sambia (2 years)
UNDP Deputy Resident Representative, Congo (3 years)
UNDP Deputy Country Director, Ghana (3 years)
Chief of Development Cooperation, Swissaid, Berne/Lausanne (since Summer 2015)
How I started
I decided against an academic career while doing my doctorate in political science. I worked first for the Institute for Federalism in Fribourg, in the area of peacebuilding and governance. At the same time, I applied for the Lead programme at UNDP and was recruited for four years. My first job after the Lead programme was as deputy resident representative in the Congo and after that I moved with my family for almost three years to Ghana. While in Ghana, I got my current job as head of development cooperation at Swissaid.
My motivation
My basic motivation was to contribute something meaningful for UNDP in the field. For me, the UN is an extraordinary organisation, with global reach and recognition. I was proud to work for it. In my position as deputy country director, I had plenty of room for manoeuvre, an excellent team and superiors who trusted me.
My daily work
My work as deputy country director was very diverse. I led programme meetings, developed strategic visions and determined directions. On a daily basis, there were many decisions to make, a flood of mails to manage and the financial administration to check. I also had many representation tasks. The days were long, often 11 to 12 hours.
I used to work at a strategic level to improve people's lives.
The rewards and challenges
The best part of my job was developing new ideas and then helping with their implementation. I love being able to make and shape decisions on the basis of solid research. It was great if we could celebrate success after a long operation. The only aspect of my job that I found tiring was people who wanted to enrich themselves.
My personal situation
The work in Ghana was intensive. My wife and I both worked 100%. However, we had a lot of support with childcare. Our circle of friends was smaller but more spontaneous than here in Switzerland. Our children were eight and twelve when we came back to Switzerland. We thought that was the right time to give them a bit more of a settled life.
Our circle of friends was smaller but more spontaneous than here in Switzerland.
What I've learnt
In Ghana I learnt that development cooperation works in a complex context. However, to be effective, an organisation needs an appropriate capacity and management system. I also learnt to lead a very diverse team while remaining modest.
My future
After my long experience in the UNDP, I've stepped into the Swiss NGO world. Here, I can bring my experience from the field and the UN world, with room for manoeuvre similar to the UNDP. I strongly support the need for civil society, in order to bring about social improvements. There are many possibilities for the future – however my commitment to justice and poverty reduction will accompany me throughout my life.
My advice to people interested in a position at the UN
It's imperative to have a master's degree to get into the UN. It's also worth cultivating a wide network as early as possible.
Portrait also available in German
Our services – to take you further
cinfo supports Swiss professionals considering a career with the UN or a development bank, and those already in the system: