Blog
"My job in the exchange of personnel in development cooperation", Judith Reusser
Meet Judith Reusser, Specialist with Comundo. Learn more about her position and career path.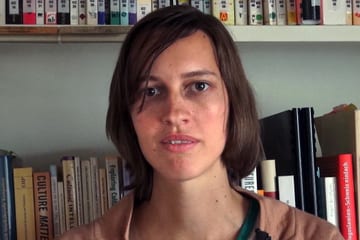 Judith Reusser at the time of writing
Age
31
Current position
Specialist Comundo (formerly E-CHANGER), Brazil (since Oct. 2013)
Education
Master's in Environmental Sciences, ETH Zürich
Most significant job to date
Project manager and clerk in the Department of Forest at IMPULS AG Forest Landscape Natural Hazards (3 years)
How I started
When I was 19, I worked for four months as a volunteer in Brazil. I enjoyed it enormously, but I also realised that, in such a short time and without a specialist education, my contribution to positive change would be limited.
So I studied environmental science, which was a good specialisation to get into development cooperation.
My motivation
After three years' professional experience in Switzerland, I was looking for a long-term posting in a new context where I could become intensively engaged and integrated. And then I came across Comundo (formerly E-CHANGER). The core value of solidarity at Comundo particularly appeals to me. Meeting people from other cultures on an equal footing and entering into dialogue as equals is central. I wanted to make a practical contribution to solving environmental problems. I agree that professionals like me should only be posted on the explicit wish of a partner organisation; that reinforces my motivation. I also found the practice of letting go of material things interesting and enlightening. Although my partner and I have been travelling with two suitcases, we lack nothing.
We have been travelling with two suitcases, but lack nothing.
My daily work
I work for a local agricultural organisation that focuses on water, agroecology and increasing farmers' incomes. I'm working on a monitoring system whereby we support 40 families and gather data with them about their agricultural production. In general, I spend two to three days a week in the village supporting the famers. The rest of the time is spent in the office, where there are also often events with the famers, or I do my individual office work.
Challenges
Committing to plans and arrangements has a different meaning here in Brazil than what we're used to. I need a lot of patience and have to be flexible. It was challenging for me at the beginning to deal with these situations calmly and to accept other ways of working and managing time.
A post in the exchange of personnel in development cooperation is more than just a job; it also requires a personal engagement. Part of my job is to raise awareness in the north and to fundraise. This was difficult for me initially, but now it's going well.
My personal situation
I live with my partner in a small, rather remote town. There are no security problems. However, the people are rather reserved and conservative and it's not easy to make friends. We integrated immediately at work - we laugh a lot together and have a lively exchange. But it's often quiet after work and at the beginning we sometimes felt lonely and isolated.
What I've learnt
Above all else, I've learnt a lot on a personal level: I've become more relaxed, open, tolerant and flexible. What impressed me here is that people are judged on what they're able to do and not on what they should be able to do.
My future
I don't know what will happen after this posting – but this uncertainty doesn't bother me. Intercultural exchanges will definitely remain a part of my life, whether professionally or in my free time.
My advice to people interested in the exchange of personnel in development cooperation
It's certainly helpful to be open to change. Development cooperation has become more professional over the last years. People who want to act as "teachers" and superimpose their own knowledge on that of the local population should avoid development cooperation.
Accompanying partners shouldn't work in the same organisation, because it can become rather narrow. Local partner organisations can often be helpful for partners seeking work.
Portrait also available in German