News
Our tailor-made HR training for Pestalozzi Children's Foundation partners
What do Trogen in Appenzell and El Salvador have in common? At first glance, absolutely nothing. But, in fact, cinfo conducted HR training sessions in these two locations in 2018.
It is the beginning of May in Trogen, an oasis of tranquillity surrounded by nature and the headquarters of the Pestalozzi Children's Foundation. Babette Pfander and Monique Kellenberger from cinfo are finishing off the final details before a group of 16 participants from Africa, Asia and Eastern Europe arrives to start a 5-day HR workshop. The participants are not here by chance: each of them has an HR or management function in their organisation and wants to gain new skills. The Pestalozzi Children's Foundation is a partner of their organisations and has invited them to participate in the training.
The workshop covers the whole spectrum of HR: definition of terms of reference, interviewing techniques, staff appraisal, staff development and dealing with difficult HR situations. Communication and team building are transversal themes.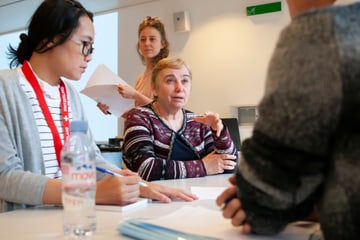 cinfo identified the participants' training needs and challenges prior to the courses.
Tailor-made training
Without a doubt, the participants are pleased with the training, with their cheerful faces and very positive feedback. The Pestalozzi Children's Foundation and cinfo have cooperated closely in carefully planning the training session. For example, the participants' training needs and specific challenges were identified prior to the course through an online questionnaire. The answers allowed cinfo to design the course around the participants' various expectations.
In addition, cinfo has planned the week as an interactive course, in accordance with its philosophy on didactic methods in adult learning. Participants have the opportunity to put the theoretical content immediately into practice and then reflect together on what they have learnt in this implementation phase.
The participants are also given plenty of opportunities to ask questions, which will be collected and dealt with in subsequent sessions.
The time flies; the last day of training is already here, dedicated to developing action plans which the participants can use to implement the course content in their own working environments. The individually elaborated plans are shared and reworked in small groups, and then presented to the whole group and Pestalozzi representatives. They will serve as the basis for future dialogue between the Pestalozzi Children's Foundation and its partner organisations about the practical implementation of this course.
The working atmosphere throughout these five days has been lively and trusting – an ideal environment to explore new terrain together, to learn and to grow.
Destination El Salvador
Some months later the Pestalozzi Children's Foundation and cinfo conducted the training session again in Central America. The workshop, led by Daniel Glinz and Monique Kellenberger in Spanish, brought together professionals from El Salvador, Honduras and Guatemala.
Our services – to take you further