News
Recruiting experts for Fondation Botnar: a new challenge
Fondation Botnar turned to cinfo to recruit five members for its high-level expert committee. Find out how cinfo responded to their request and which creative recruitment strategies proved successful.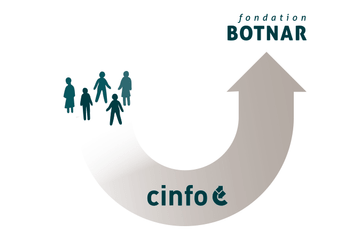 Fondation Botnar is a Swiss-based foundation that champions the use of AI and digital technology to improve the health and wellbeing of young people in growing urban environments. To achieve this, the foundation supports research, catalyses diverse partners, and invests in scalable solutions around the world.
Learn more
"Experts wanted"
Fondation Botnar
Our foundation is dedicated to improving the health and wellbeing of young people around the world. We provide a range of funding opportunities to enable pioneering research and innovation, and to help realise ground-breaking initiatives.
We approached cinfo, because we intended to create a new advisory Expert Group to assess applications for funding. cinfo's role was to support us in the process of appointing five external experts in the following areas: cities, artificial intelligence (AI) & digital health, global research & solutions, changemakers & capacity building, and entrepreneurship & innovative financing. We were looking for people whose expertise would be key to the foundation's grant selection, and who could support work in urban contexts, with a specific focus on leveraging digital and AI innovations for young people.
We chose cinfo because we'd had the opportunity to work with their team before and have long valued their experience in international cooperation. cinfo supported us in the many phases of the process, from writing and publishing the advertisements to conducting online interviews with candidates.
cinfo supported us from writing and publishing the job ads to conducting online interviews with candidates.
We particularly appreciated the tailor-made approach offered by cinfo to fit our special context. In June 2019, we were proud to welcome Alice, Kelechi, Max, Ramesh and Michele – five renowned international experts in the areas mentioned above – and to start activities shortly thereafter. There is no doubt that cinfo's support was instrumental in finding these very specific expert profiles, as we strive to ensure high impact investments to improve young people's wellbeing.
"Challenging new assignment from a dynamic Swiss foundation"
cinfo, Adrian Marti
cinfo has been extending its active sourcing activities to respond to organisation/client requests for executive search support for senior and middle management functions. In 2018 cinfo successfully assisted Fondation Botnar in recruiting for three positions in Basel. This led to cinfo being asked to support the recruitment of five members of the high-level Expert Committee, which started its work in mid-2019.
Fondation Botnar was looking for leaders in their field who could dedicate around 20 days a year to the organisation as it ramped up its programme around the world. This included positions in cutting edge fields like artificial intelligence/social entrepreneurship and digital health.
Our services included: finalising the job advertisement; international recruitment outreach; active sourcing, primarily using LinkedIn but also directly contacting candidates suggested by the Botnar ecosystem; the management and triage of applicants; holding first interviews and setting up a short list; doing reference checks on the final candidates.
After a worldwide search we were able to find excellent candidates, allowing Fondation Botnar to hire an innovative group of specialists. Constructive, responsive communication with the senior management of Fondation Botnar allowed us to respond quickly to new needs and was crucial in successfully completing this executive search. One of the challenges was employer branding: Fondation Botnar is quite a new player, so convincing some excellent candidates to apply was one of the executive search functions we were involved in.
Our mix of channels for reaching candidates ensures we have results.
At cinfo we showed that we can recruit internationally for positions with new exciting skillsets, and that our mix of channels for reaching candidates ensures we have results. All in all, an exciting experience which was a win-win for both sides. cinfo is looking forward to future cooperation with Fondation Botnar.
Our services – to take you further