Blog
"Talent has no boundaries" – The UN is seeking to recruit persons with disabilities
Are you a professional living with disabilities and interested in working for the United Nations (UN)? We encourage you to apply! The organisation is actively seeking to increase diversity and inclusion in its workforce.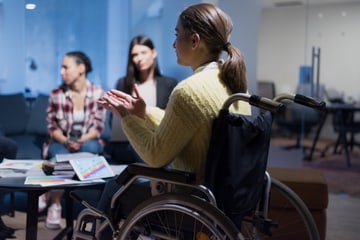 To address professionals living with disabilities, the Forum cinfo 2021 hosted a session dedicated to UN work opportunities for persons with disabilities. Two HR professionals – Aoife Meehan from the UN Development Coordination Office (DCO) and Lykke Andersen from the UN Development Programme (UNDP) – laid out what the UN is doing and offered concrete advice on how persons with disabilities can make themselves visible to UN recruiters.
"Talent has no boundaries" – whether it be geographic diversity, gender or disability, "the UN is always seeking the best and brightest talent", Aoife Meehan expressed.
The UN system has started incorporating the Secretary-General's Disability Inclusion Strategy in the last few years, thus making special efforts to attract, recruit, retain and promote professionals with disabilities.
We are evolving our internal systems to attract, recruit, retain and promote persons with disabilities in the UN workforce.
Aoife Meehan, DCO
The UN's motivation to increase the diversity of its workforce comes as no surprise: it needs to reflect the people it serves, which obviously includes persons with physical, psychological and cognitive disabilities. Further reasons for the urgency of the Disability Inclusion Strategy were:
180 Member States have ratified the Convention on the Rights of Persons with Disabilities, which includes work-related requirements such as the protection from discrimination,
15% of the world's population are persons with disabilities,
80% of persons with disabilities live in developing countries,
7 targets of the SDGs explicitly refer to persons with disabilities.
What is the UN doing to attract and accommodate professionals with disabilities?
Of course, the UN competencies and the functional skills relevant to each job are still assessed when recruiting new talent. However, the UN Secretariat has been trying to streamline the application process and make it as accommodating as possible for applicants with disabilities.
Different UN entities have taken a series of measures:
Outreach: The UN is developing its relationships with disability-focused groups and job platforms
Recruitment: Persons living with disabilities are given particular consideration in the application process. When invited for an interview, they are asked whether they require any kind of assistive device or other accommodation
Accommodation funds: Money has been earmarked to provide assistive devices, personal assistants, sign language interpretation, flexible (part-time) and hybrid (remote/office) work arrangements, and parental leave for staff members
Internal capacity building: UN staff are being sensitised to better understand disability inclusion
Communication: The UN is working to ensure that its internal and external communication are inclusive, accessible and respectful of persons with disabilities, aiming to eventually eliminate stigma and discrimination
We all know that gaining entry to the UN is not easy for any professional. If you are a qualified candidate living with disabilities, however, one specific programme can give you a head start:
This Talent Programme is dedicated to attracting young people with disabilities, allowing them to gain UN experience and building a pipeline of talented professionals for future roles in the UN.
Lykke Andersen, UNDP
What can you do to make yourself more visible to the UN?
Apply without hesitation for any UN positions you feel qualified for! The UN is highly interested in receiving applications from persons with disabilities.
Indicate on the application form that you are living with disabilities (there is a section asking if you have any special needs) so that the UN can give your profile due attention.
When invited for an interview, be vocal in asking for any assistance you need, so the UN can make sure to accommodate your needs during the interview process and beyond.
Did you know?
cinfo offers personalised support in the form of career advice and job application support. If you are a Swiss national, you can also check out our extra services for Swiss professionals considering a career with the UN or a multilateral development bank.
The association www.sensability.ch promotes diversity, equity and inclusion through its training and consulting services for companies, public institutions and organisations in the German-speaking part of Switzerland.