Agenda
UNV Application Support Workshop


24.08.2022

Are you interested in starting a career with the United Nations? The UN Volunteers programme may be your entry point. Join this interactive workshop to get support in applying to a UNV position and enter the UN System.
Register for this interactive career workshop on 24 August (2PM - 5PM, Swiss time), which will provide you with first-hand information and application tips to join the UN system via UNV
The webinar will be joined by UNV and HR professionals to provide you with valuable information to help you apply for a UNV position and enter the United Nations.
You will get first-hand information on the UNV application process 
You will have the opportunity to get application tips from UNV and HR professionals to help you apply for a UNV position
To participate in this workshop, it is necessary to attend at least one of our "Behind the Scenes" events with UNV (23 June and 4 August); see below for an overview of the events.
Duration
1 hour
6 to 7pm (Swiss time)
Type
Information and networking event
Overview of the events with UNV
📆 Thursday 23 June – with UNHCR, UNICEF & UNV
Register now
📆 Thursday 4 August – with UNDP, UNFPA & UNV
Registration opens soon
📆 Wednesday 24 August – Application support
By invitation
📆 Tuesday 20 September – 1 to 1 with UNV recruiters
By invitation
Seize this unique opportunity
Participating in at least one of these events (23 June and/or 4 August) may allow you to benefit from a free application workshop and to be selected for a one-to-one meeting with UNV recruiters.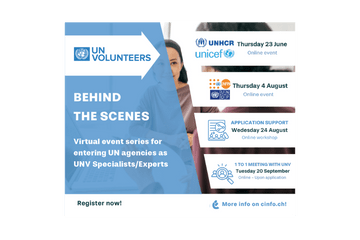 cinfo services – to take you further
cinfo supports Swiss professionals considering a career with the UN or a development bank, and those already in the system: