Blog
What does a working day at the International Finance Corporation (IFC) in Nairobi look like? A Digital Financial Services Specialist gives us an overview
Adrian Mattmann (34) is a Digital Financial Services Specialist for the International Finance Corporation in Nairobi. We asked him about his experience and what advice he would give when entering finance in multilateral organisations.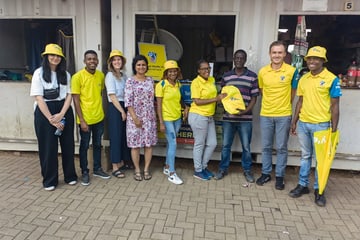 Blog series about careers in finance with multilateral organisations
Working in the financial sector of multilateral organisations – it sounds a bit dry at first, but it's not at all. In this blog series, we take a closer look at the subject and want to hear from individuals about how they came to work for the International Finance Corporation (IFC), what they expected to find, and which candidates are in demand at IFC today.
What is your current role at IFC, and what are your main responsibilities?
I am a Digital Financial Services Specialist, currently based in one of IFC's regional offices/hubs in Kenya, Nairobi. I lead advisory projects with our clients on their digital transformation and digital business models. Our advisory projects equate to technical assistance and consulting for our clients. In my case, clients are banks, microfinance institutions, insurance companies, mobile network operators ("telcos"), and mobile payment providers like M-Pesa, similar to Twint in Switzerland. In South Africa, for example, I launched a mobile payment service similar to Twint and M-Pesa (which started 15 years ago in East Africa). We are now adding new options like paying utility bills and international transactions for online shopping abroad or when travelling. The next step will be issuing loans to people with lower incomes via the platform. This is where our investment angle comes in. Our advisory clients are either investees  – clients with whom IFC already has an investment – or we make them ready for our investments through leapfrogging, for instance. In both cases, we work closely with our colleagues in investments that will eventually increase the bankable market.
How can I picture your typical working day?
My daily routine is similar to a normal office job, and as in Switzerland, you switch between languages throughout the day. Getting coffee in the morning paying via M-Pesa on my mobile phone, going to town with investment colleagues to eat lunch and at the end of the day, making my way through Nairobi, with its little valleys. Due to the time difference with clients based between Cape Town in the south and Cairo in the north, I have to have flexibility when arranging meetings.
That really sounds like a typical office day – do you also visit clients and projects on the ground from time to time?
Yes, I do. Our projects run for up two years. I regularly travel to meet clients and their assigned teams. They are based in South Africa, Nigeria, Morocco, Ethiopia and the Democratic Republic of Congo. Moreover, the development and launch of a new credit product together with the client onsite add extra "flavour" to the work.
Speaking of changes –looking back on your career path, how did you find your way into finance in a multilateral organisation?
I developed a passion for number crunching when studying finance in Switzerland, especially econometrics. It so happened that I was offered an internship at the Swiss Embassy in Canada, which led me to be selected for a scholarship at the College of Europe in Bruges for an executive master's degree. It was there that I first came in touch with the multilateral set-up. My thesis assessed the impact of global macroeconomic shocks, such as the Global Financial Crisis, on the portfolio allocation of the European Investment Bank. Upon being selected for the Mercator Fellowship on International Affairs after completing my second master's, I came to work in the financial services field in emerging markets. I spent some time with Vodafone in London, developing electronic payments in their emerging market teams. I also revamped a banking app in Morocco and digitised the agricultural insurance payments for a spin-off of Syngenta. I finally saw this position at IFC and applied. The position's set-up was very appealing to me, spending one year at our headquarters in Washington D.C. then moving to the regional hub here in Nairobi.
Try the unthinkable, especially when the downside risks are limited.
Your work has taken you to many places abroad. Why were you motivated to apply for a position abroad?
Probably curiosity. One thing led to another, with people having confidence in me. When I applied for the Mercator Fellowship, I would never have thought they'd take someone with a background in banking. Sometimes you have to try the unthinkable and be well prepared, especially when the downside risks from applying are limited. You can only learn!
For you personally, what makes working in a multilateral organisation such as IFC unique?
Working with both a diverse range of clients and colleagues. Firstly, you switch between projects which are at various stages, all within the same day. You also switch between clients, each with their own unique mindset, as does the market, meaning you manoeuvre between different set-ups. Secondly, colleagues from other cultural backgrounds apply their vast expertise in various ways. There is rarely any team with two members of the same nationality. Together, we offer a larger set of solutions to the table. This is very enriching.
Colleagues from other cultural backgrounds apply their expertise differently. Together, we offer a larger set of solutions to our clients. This is very enriching.
What skills have you acquired over the years that are important for your daily work?
The ability to unpack my technical backpack in different set-ups while reacting to the situation smartly, and taking responsibility for my actions. You need to find solutions for situations you would have rarely thought of, be it capital restriction or that banks are obliged to have a certain percentage of their lending portfolio in agriculture. I learnt how to navigate in unconventional situations that are unlike the perfect market conditions you find in models.
Another skill is working with parallel timelines and prioritising tasks in a decentralised environment where you work independently. Our director sits in Rabat, Morocco. This requires me to have self-discipline and self-organisation so that I stay on top of the task at hand.
In a nutshell, what would you say makes working at IFC attractive to employees?
You have a lot of ownership of your work and see the impact it makes. There is also a learning culture, be it internally within your department as well as externally with clients. IFC is open to new ideas. You are actively encouraged to bring them forward.
This sound all very promising – but there is always the flip side of the coin. What should people be aware of when pursuing this career path?
IFC is part of the World Bank Group, which tends to offer term contracts, even for its own staff. You need to get used to this. If you create business and deliver, your contract is extended time and time again. Moreover, you need to bring some flexibility. Depending on your role, you will be asked to relocate every couple of years.
Considering the current global developments and challenges, what candidate profiles are the most desirable for IFC now, and what advice would you give interested people?
These would be candidates with a solid financial understanding, interested in emerging markets and number crunching. I would also add cultural openness, innovative mindset, and language skills that help you when working with the assigned teams of our clients. In addition to investment and advisory, we have other roles you would find at any other bank, such as treasury, syndications, compliance and so forth, which ask for a different profile. It is about the function and what you can bring to the team. Highlight this to your potential employer, who may be less familiar with the Swiss context.