News
cinfoPoste 3.0 – Maximum chance of success for minimum effort
With cinfoPoste 3.0, the Swiss job market in international cooperation takes a step forward. Focus on the talent pool, the core of the new platform.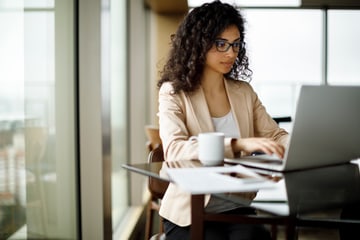 cinfoPoste first appeared on the job market over 25 years ago. An online job board was unimaginable back then; instead, a gazette was published at regular intervals, containing a few pages of job advertisements that was passed from hand to hand. Although that seems archaic now, it was still very useful. It helped many people to find jobs and many employers to find the skilled workers they were urgently looking for.
In the 2000s, cinfoPoste was transformed into a virtual portal. For more than ten years, version 2.0 served as an intermediary between organisations and jobseekers, making an important contribution to the Swiss international cooperation labour market.
The result of a need to innovate
Digitalisation of tools, candidates' search for job meaning, organisational change, increased competition between sectors and within sectors – it is clear that recruitment today is not the same as it was ten years ago. The relationship between applicants and advertisers has changed, and in some cases even reversed.
The recruitment today is not the same as it was ten years ago.
Our job portal showed its first signs of weakness in the face of these developments, necessitating a complete overhaul. After several months of planning and development, cinfoPoste 3.0 was finally launched in October last year.
It offers organisations completely new possibilities. For example, its algorithms allow potential affinities between job postings and job seeker profiles to be identified at a glance.
If they wish, employers can manage their recruitment process directly in cinfoPoste without any additional tools. Furthermore, the publication of advertisements can also be automated, provided an interface has been set up between the organisation's website and cinfoPoste.
There are also many advantages for jobseekers. They can now create an individual profile, upload their CV and record a video CV. The algorithms mentioned above make it possible to identify potential compatibilities between their CV and job vacancies. 'Job agents' take over monitoring tasks and send personalised email notifications as soon as appropriate new jobs appear online.
The jobseekers can now create an individual profile, upload their CV and record a video CV.
All these functions revolve around the 'talent pool', which lies at the heart of the new cinfoPoste.
In the interview, Natal Donnaloia, product owner at cinfo, explains what is behind the talent pool.
What is the talent pool?
Natal Donnaloia: The talent pool is made up of individuals who have created a profile on cinfoPoste and update it regularly. These people are working or are actively interested in becoming professionally involved in development cooperation, humanitarian aid and/or peacebuilding, whether in Switzerland or abroad. Characteristically, the members have a high level of education (university or equivalent) as well as highly relevant experience and expertise.
Why is a talent pool required?
We are constantly looking for people – both entry-level and experienced professionals – who can add value to international cooperation organisations, and we conduct pre-selections. We are entrusted to do this work by both multilateral organisations (editor's note: cinfo has a mandate from the Swiss Confederation, which is interested in strengthening Switzerland's presence in the UN and international financial institutions) and by other organisations (NGOs, private sector, foundations, government).
There are clear advantages if, in addition to our sourcing activities on LinkedIn and other channels, we can draw on our own talent pool in the course of our research.
 
Do employers have access to the talent pool?
For obvious data protection reasons, direct access is not possible. However, in the course of the pre-selection and recruitment assignments mentioned above, we naturally access this valuable pool. We only pass on to employers the profiles of jobseekers who have given their express consent.
What does the future hold?
We are very satisfied with how it is developing. More than 4000 people (update 2022: more than 16'000), including more than 1200 Swiss residents (2022: more than 2000), have created a complete profile in just three months.
One of our goals is to better target our efforts to attract those profiles that are highly sought after by employers. These include, for example, experts in the fields of finance or healthcare. In addition, we will also strengthen our information and advice services for the other profiles.
It is important for job seekers to create an accurate, attractive and complete profile. It is worthwhile spending sufficient time on this, both when creating and regularly updating it.