Prepare your students
Tailor-made training and workshops for your students
Prepare your students for their first experiences in international cooperation and beyond
cinfo supports your institution with workshops aimed at strengthening your students' ability to perform in the field of international cooperation. We develop tailor-made offers such as e-learning courses, blended learning programmes, training programmes and workshops.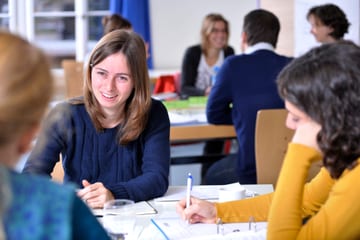 Location
online or onsite, to be agreed
Duration
according to need
Register now
Get in touch
Senior Advisor and Trainer
Offers that fit your curriculum
cinfo combines many years of sector knowledge with a broad repertoire of methods and comprehensive content expertise. From this, we develop offers that are tailored to the competencies you want to convey to your students.
"Tailor-made training and workshops" at a glance
Safety and stress

Context and risk analysis
Personal preparation
Stress management

Goals are set with your institution, such as:

Students can analyse the risks in their environment and are able to react to them.
Students learn and train to minimise safety and health risks.

Strengthening the ability to perform

Leadership
Collaboration in international teams
Dealing with conflict

Goals are set with your institution, e.g.:

Students can take responsibility.
Students improve their ability to anticipate and manage conflict.

Future career

Skills assessment
Questions on professional development
Work-life balance

Goals are set with your institution, e.g.:

Students know their strengths and areas they need to develop.
Students develop a vision for their career.
Students can plan the next steps for career entry.
Registration
Get in touch
Would you like to find out how we can support you?
Your contact: Shazia Islamshah, Senior Advisor and Trainer
Give us a call +41 32 365 80 02 or email us.
consultation@cinfo.ch