Make evidence-based decisions
Access to studies and statistics
Stay up to date with the latest research on institutional trends
What are the complementary and competing educational opportunities in the field of international cooperation? What does the professional future hold for your students? cinfo regularly conducts studies on career and work-related issues in the sector and publishes a labour market report every two years. On request, we can present the results in the form of a lecture or workshop.
Target group

Needs

Duration and cost

Educational institutions related to international cooperation

Obtain information and results from current surveys on the labour market and the professional field
Monitor trends
Information tailored to your questions
As the Swiss competence centre for careers in international cooperation, cinfo has the necessary sector knowledge to carry out studies and collect statistics exactly where they are relevant for the actors in the working arena.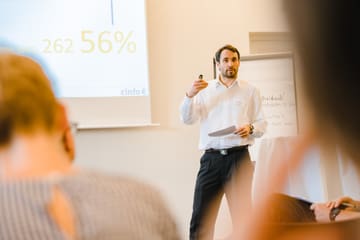 "Studies and statistics" at a glance
Topics

Content

Your benefits

Labour market monitoring

Data from surveys of: employers / education and training institutions / cinfoPoste job portal profiles / analysis of job advertisements.
Publication of report every two years

You have access to current data keeping you up to date.
You will find useful information for the strategic direction of your educational programmes / your institution.

Specific studies

Publications on current topics (e.g. diversity, interest of young professionals, highly sought-after skills in the future, etc.)

You receive information and recommendations on these topics.

Workshops and conferences on HR trends

Recommendations to actors in the field
Online presentations or on-site/in-house events as desired

You receive first-hand input in the form of workshops or events.
"
For my daily work as a leader, cinfo's publications give me valuable input, be it for recruiting new staff, identifying trends in international cooperation or adapting internal and external communication. In particular, the report 'Diversity in the Swiss Labour Market' helped me broaden my horizons. The information is presented in a short and concise way.
"
"
cinfo brings a valuable additional service. It is close to the institutions and aware of where their priorities lie; as a result, it can develop the fundamentals, which is enormously beneficial to us.
"
"
cinfo is both an information platform and competence centre. It is at the forefront of incorporating new developments and providing awareness-raising and information activities.
"
How to register
Would you like to receive first-hand input in the form of a workshop or conference?
We can arrange this for your institution, either onsite or online.