Support a process
Process and consultation services for members
Results-oriented consulting sessions for questions from everyday institutional life
Would you like to have a competent counterpart for a short, results-oriented consulting session on a challenging topic from everyday institutional life? We offer cinfo members uncomplicated and individual support. Possible questions could cover anything from diversity management and organisational development to short-term support in the search for personnel or long-term human resources planning.
Target group

Needs

Place, length and cost

International cooperation organisations and educational institutions that are members of cinfo

Discuss and resolve specific issues from everyday institutional life in a one-on-one meeting, or get short-term and unbureaucratic support in finding personnel in the event of critical staff shortage.

Conducted on-site or online.

Free of charge for members:

4h for international cooperation organisations
2h for educational institutions
Individual consulting on equal terms
cinfo offers broad sector knowledge, access to the largest Swiss international cooperation network, and extensive experience in institutional practice. On this basis, we provide individual consulting on equal terms for professionals at all organisational levels.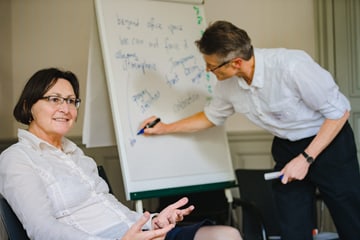 The service at a glance
Topic

Content

Your benefits

HR development

Recruitment strategy
Recruitment of managers
Onboarding
Diversity management/conflict resolution
Talent management
etc.

You will be supported in assessing your issue from an external perspective.
You get an overview of the central challenges of your issue quickly.
You plan your next steps and implement them in a structured way.

Organisational development

New structures
Communication
Implementation
Change processes
Employer branding

Networking

Mediation of contacts and establishing possible connections

cinfoPoste Talent Pool Search

Active sourcing in our talent pool for urgent recruitment, such as interim positions following an employee departure:

Writing to suitable profiles
Forwarding the contact details of interested candidates

You receive fast and uncomplicated support in finding personnel for urgent vacancies.
"
cinfo brings a valuable additional service. It is close to the institutions and aware of where their priorities lie; as a result, it can develop the fundamentals, which is enormously beneficial to us.
"
"
cinfo is uniquely positioned to meet the challenges of our time because it has such a solid, impressive base: few organisations have as many contacts and as much knowledge in the humanitarian field.
"
How to register
Tell us about your situation and needs
Get in touch with us, briefly explain your situation and questions so that we can identify the most relevant coach.