cinfo
Who we are
cinfo has been the competence centre for careers in international cooperation on behalf of the Swiss Confederation and other partner organisations for over thirty years. Our focus is on the interests of professionals and various organisations in this sector. We develop services at the heart of the sector – and in the process, regularly enter into new partnerships.
International cooperation deals with critical humanitarian challenges – which is why organisations worldwide are dependent on qualified personnel. cinfo is the central link between Switzerland and this professional field.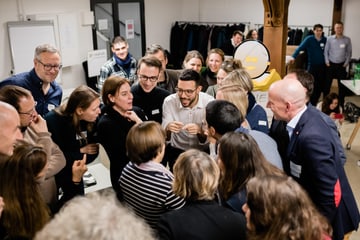 At the centre of a global network
One pillar of our work is to develop and facilitate national and international networks that connect countless members and partners. We provide a wide range of services within the focus areas of "Theme Setting", "Exchange of Knowledge and Experience", and "Advocacy of Interests".
Then and now: On behalf of the Swiss Confederation
cinfo was established as a foundation in 1990 by the Swiss Agency for Development and Cooperation (SDC). We are funded by the following federal agencies:
We also work on a mandate basis for various organisations in the sector.
For our members – together with important partner organisations
Our members include:
Non-governmental organisations with headquarters in Switzerland
Swiss training and further education institutions related to international cooperation
Our network partners and clients include:
Foundations
Private companies active in international cooperation
A must: continuous development
For our work, we rely on the expertise of experienced professionals and professional network contacts in human resources, consulting, coaching, knowledge, event and stakeholder management, and communication. As an organisation with tailor-made workshops and training programmes, the continuous development of our structures is an absolute must.