Build organisational capacity
Improve your safety and security processes
With the increase in fragile contexts, providing safety for staff abroad is crucial for organisations active in international cooperation. Yet many organisations are not fully aware of their legal and moral obligations in this regard.
The Duty of Care maturity model helps Swiss NGOs to understand and improve their safety and security risk management processes.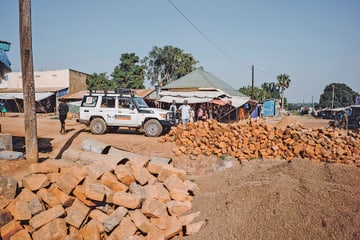 The maturity model
shows key Duty of Care processes
measures maturity across five levels
serves as a learning tool for Swiss NGOs
does not set Duty of Care standards
Duty of Care
Employers are obliged to take all necessary and feasible measures to safeguard the health, safety and integrity of their employees.
Using the Duty of Care Maturity Model Matrix, organisations can assess their maturity for each of the four duties across five steps, from an initial, ad hoc approach to an optimised level where there is an organisational culture of learning and continuous improvement.
Self-assessment online tool
Evaluate your organisation's maturity in regards to safety and security, and improve your Duty of Care towards staff working outside of headquarters:
Need to explain the maturity model to an outsider? This poster might help:
Download poster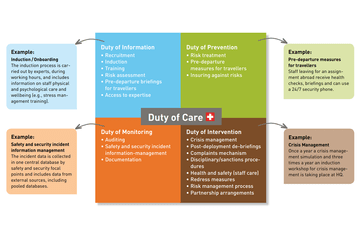 Background
The Duty of Care Maturity Model Matrix and the Duty of Care self assessment tool were developed by the Swiss Security Network in collaboration with the Global Interagency Security Forum (GISF) and cinfo in 2019.
They are based on a study that included literature research, an online survey and key informant interviews with 26 security focal points from major European and American NGOs. The study collected good practice examples and identified key processes that support meeting each of the four duties.
Our Community of Practice – to take you further