Workshops and training
Collaborating Across Cultures Online Training
Promoting intercultural competence of your staff in a targeted manner
In the online training "Collaborating Across Cultures", your employees acquire and deepen their intercultural competence individually. The following topics are covered: basics of intercultural communication, building trust in multicultural teams, conflict management in multicultural teams. These three modules can be booked separately or as a complete package. Your employees also get one-on-one coaching support at the end of each module.
Target group

Needs

Duration and cost

Employees of international cooperation organisations

Promote collaboration between people with different cultural backgrounds
Promote competence in leading diverse teams

Access to online learning material, which your employees can go through at their own convenience and own pace, as well as one-on-one coaching sessions of 60 minutes each.

Staff of member organisations:
CHF 240/module or CHF 630 for all modules
Staff of non-member organisations:
CHF 280/module or CHF 700 for all modules
Perfectly compatible with professional life
The training combines independent learning via an online platform with conversation-based reflection on one's own process in the context of coaching. The three modules can be attended flexibly in terms of time and place and can be easily integrated into the everyday work schedule of your employees.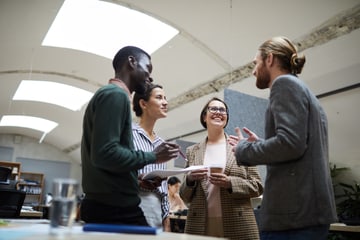 The training at a glance
How to succeed intercultural communication? (module 1)

Most frequent challenges
Role of identity
The interplay between culture and individual behaviour
Non-verbal communication
Intercultural competence

Participants reflect on their personal values in an intercultural context.
Participants become familiar with the central challenges of intercultural communication and develop their powers of observation.

How to build trust in multicultural teams? (module 2)

Dealing with stereotypes and prejudices
What is trust-building?
How people perceive us
Contextual and personal elements of trust-building
The practice of trust-building

Participants are provided with concrete tools to build trust in an intercultural context.
Participants will create a working environment that promotes respect and trust.

How to manage conflict in multicultural teams? (module 3)

Basics of interpersonal communication
Approaches to conflict resolution
How listening succeeds
Self-reflection

Participants improve their communication skills.
Participants learn to recognise and defuse conflicts at an early stage.
"
Without cinfo, there would probably be more personal crises, because, without its help, people would stumble over cultural obstacles. And without predeparture and returnee coaching, many would fall into a psychological hole. cinfo is an indispensable link between organisations and people.
"
How to register
You are a member organisation
If you don't know your secret discount code, ask for it by phone or email
Register your employees or ask them to register in person (apply the discount code when registering!)
You are a non-member organisation
Register your employees or ask them to register in person