Workshops and training
Tailor-made training and workshops for your personnel
Strengthen your employees' capacity to take action
Is it also your goal to enable your employees to operate successfully in global working environments and to support their own health with proven tools? In consultation with your organisation, cinfo develops tailor-made offers such as e-learning courses, blended learning programmes, training courses, and workshops.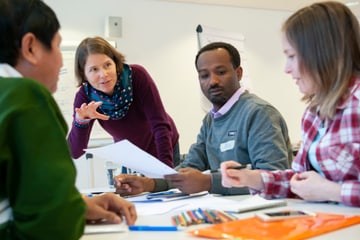 Location
online or onsite, to be agreed
Duration
according to need
Register now
Get in touch
Senior Advisor and Trainer
Developing employee competence in a targeted way
cinfo combines many years of sector knowledge with broad content expertise and an extensive repertoire of methods. This enables us to develop offers specifically tailored to further develop the employee competence in a targeted way.
"
cinfo brings a valuable additional service. It is close to the institutions and aware of where their priorities lie; as a result, it can develop the fundamentals, which is enormously beneficial to us.
"
"
cinfo helps you as an employer to gain more competence, more knowledge and countless contacts – but it is also concerned about the work-life balance. It is a very human-oriented organisation that takes the well-being and development of staff into account.
"
"
Without cinfo, there would probably be more personal crises, because, without its help, people would stumble over cultural obstacles. And without predeparture and returnee coaching, many would fall into a psychological hole. cinfo is an indispensable link between organisations and people.
"
"Tailor-made training and workshops" at a glance
Safety and stress

Context and risk analysis
Personal preparation
Stress management

Goals are set with the client, such as:

Participants can analyse the risks in their environment and are able to react to them.
Participants learn and train to minimise safety and health risks.

Professional positioning and career orientation

Skills assessment
Professional development matters
Further education matters
Maintaining life balance

Goals are set with the client, such as:

Participants identify their strengths and areas of development.
Participants formulate vision for their career.
Participants can outline their next career steps.

Strengthening of capacities to take action

Leadership
Collaboration in international teams
Team development
Leadership / working at a distance
Dealing with conflict in the workplace

Goals are set with the client, such as:

Participants can assume responsibility.
Participants improve their skills in the prevention and management of conflict.
Case study
What do Trogen in Appenzell and El Salvador have in common? Take a look at our tailor-made HR training for Pestalozzi Children's Foundation partners.
Registration
Get in touch
Would you like to find out how we can support you?
Your contact: Shazia Islamshah, Senior Advisor and Trainer
Give us a call +41 32 365 80 02 or email us.
consultation@cinfo.ch