Elevate the onboarding experience
Job Start Coaching
All about onboarding: equip your new employees with essential sector knowledge for getting started
The field of international cooperation is wide-ranging – particularly when starting in a new position, the need for orientation may arise. For your employees who are new to the sector and want to learn more about the structures of international cooperation in Switzerland, cinfo offers specific support. We provide information, resources and networking according to their needs.
Managers and employees of international cooperation organisations who are new to the sector

Get an overview: "which actors, information and platforms are important for your my activities?"
Making the onboarding process efficient

Coaching 60min: CHF 180 / Free of charge for executives and HR directors of member organisations
Coaching package 2h: CHF 340
Advice from experienced sector experts
cinfo has a unique overview of the landscape of actors and stakeholders in international cooperation and, since 1990, has been following the development of their collaborations. We also have a broad network of contacts and access to all the necessary platforms.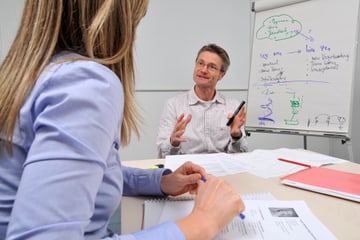 "Job Start Coaching" at a glance
Get an overview

Current actors in Switzerland
Cooperation between them (platforms, NGOs, politics)
History and current issues
Promoting the presence of Swiss nationals in the UN system
Using cinfo as a resource

Your new employees know who to approach for which issues.
They have an overview of the most important actors and platforms.

Deepen information

Introduction to the topic of international cooperation
Information about how the labour market works
Challenges in the labour market

Your new employees deepend their knowledge of the professional field and challenges faced in the labour market of international cooperation.

Resolve unanswered questions

Triage, classify and clarify issues related to the new position

Your employees receive helpful information to perform duties in their new position.
How to register
Register your employees or ask them to register in person
You can choose
between an individual session (60 minutes) and a package of 2 hours,
between an onsite coaching in Biel-Bienne and an online coaching.
For new executives and HR directors of member organisations
"Job Start Coaching" is free of charge. Get in touch with us to schedule a meeting.