Networking
Individual networking support for organisations' representatives
A structured approach to targeted networking in the sector
A broad sector network is a central factor of cross-institutional collaboration and an important catalyst for knowledge and information. cinfo helps you to establish a targeted, theme-oriented network with relevant actors in international cooperation.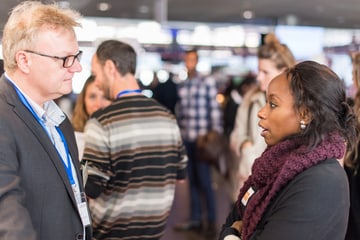 Location
Biel-Bienne or online
Duration
60 minutes/session
Register now
Get in touch

Irenka
Krone-Germann
,
cinfo
Representatives of international cooperation organisations

Expand the network in a targeted way with relevant stakeholders, organisations and potential employees.
Why go through cinfo
cinfo is the only Swiss platform for networking in the field of international cooperation. It has been cultivating formal and informal networks with countless organisations and individuals in the sector for over 30 years. We can support your positioning by providing you with targeted access to this network.
Individual networking support at a glance
Service

Details

Your benefits

Brief analysis

Identifying goals and needs

You will know in which areas there is a need for networking.

Networking support

Arranging contacts

You will receive customised contact opportunities to expand your network.

Brief coaching

Discuss possible approaches to managing the network

You will know how best to approach the contacts.
Registration
Individual networking support
Would you like to find out how we can support you? Please get in touch with us:
Your contact: Irenka Krone-Germann, Co-Director cinfo
Give us a call +41 32 365 80 02 or email us:
consultation@cinfo.ch