Implement a programme
Personnel development programmes
Improve the competence of your personnel in a targeted way
On-the-job training and a culture of continuous learning are just as important for professional competence and satisfaction of employees as external training and further education. cinfo supports you in developing and implementing ­in-house and ­organisation-specific ­programmes ­for­ the ­training ­of­ professional, methodical and social competence.
International cooperation organisations
Educational institutions related to international cooperation

Attain up-to-date knowledge at all organisational levels and contribute to employee satisfaction

Duration: according to need, one to several days
Price: to be agreed
Many years of expertise in HR and organisational development
As the Swiss competence centre for careers in international cooperation, cinfo has many years of experience, not only in HR, but also in organisational development. Combining these two areas of expertise forms the basis for our personnel development programmes, which are tailored to your organisation.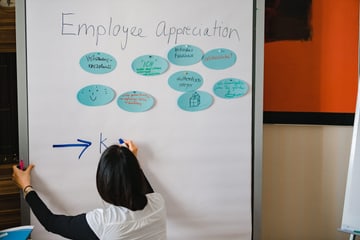 "
cinfo brings a valuable additional service. It is close to the institutions and aware of where their priorities lie; as a result, it can develop the fundamentals, which is enormously beneficial to us.
"
"
cinfo helps you as an employer to gain more competence, more knowledge and countless contacts – but it is also concerned about the work-life balance. It is a very human-oriented organisation that takes the well-being and development of staff into account.
"
"Personnel development programmes" at a glance
Topics

Content

Your benefits

Clarify initial situation

Determine the organisational goals
Define different target groups
Outline possible areas of focus
Define appropriate content, e.g. learning models, training materials, etc.

You carry out an initial analysis and define development priorities.

Conception and development

cinfo supports in developing a concept for staff development programmes
cinfo aids in the facilitation of development processes

You choose between two options:

You outsource the concept development.
You commission cinfo to facilitate the development process.

Application

Developing prototypes
Testing
Implementation

You receive concrete process proposals based on prototypes and can evaluate them in a test phase before implementation.
Get in touch
Get in touch
Senior Advisor and Trainer