Work environment support
Online Workshop on Conflict Management
Elevate your conflict prevention and resolution skills - tailored for both local and expatriate staff.
In the intricate dance of organisational dynamics, conflict, while common, can erode trust, jeopardise relationships or create toxic environments where collaboration becomes a challenge. So how do you navigate these challenges effectively? What's the blueprint for restoring harmony when things derail?
Designed specifically for professionals working in diverse socio-cultural environments, our online conflict management workshop will give you the tools to answer these questions and more.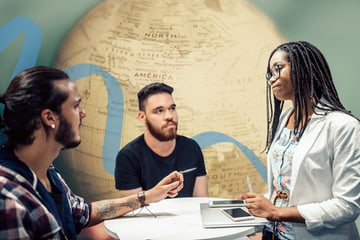 Price
CHF

400
Cancellation:
up to 5 days before the workshop, you will be refunded with a deduction of CHF 50
Register now
Get in touch

Methodology
Tailored to your needs:
Starting with real situations you've encountered, we emphasise practical analysis over theory, ensuring you leave with actionable insights for your day-to-day operations.
Interactive learning environment:
This isn't your typical webinar. With engagement at the forefront, our workshop encourages active interaction between facilitators and participants. And with the potential for "zoom fatigue" in mind, we've incorporated reading segments, moments for personal reflection, and small group discussions.
Staged learning:
The first two sessions lay the foundations of conflict management. Apply these basics in your work and personal life, and return in subsequent sessions for more advanced topics and case study analysis.
Programme
Session 1
Monday, 16 October 2023, 09:00-12:30 (Swiss time)

Introduction to conflict
Recognising levels and causes of conflict
Understanding conflict phases

Session 2
Tuesday, 17 October 2023, 09:00-12:30 (Swiss time)

Addressing different perceptions of conflict
Direct vs. indirect communication styles
Identifying personal conflict management styles
Distinguishing between complete and incomplete messages

Session 3
Monday, 30 October 2023, 09:00-12:30 (Swiss time)

Constructive feedback and criticism
Proactive conflict identification and management
Understanding conflict triggers
Participant-provided situation analysis

Session 4
Tuesday, 31 October 2023, 09:00-12:30 (Swiss time)

Giving and receiving feedback and criticising constructively
Addressing conflicts before they become damaging
Examining which interlocutors trigger conflicts in us
Analysis of a situation provided by participants
Key takeaways - Equip yourself to
Understand and classify levels and causes of conflict
Foster and manage trusting relationships
Improve active listening skills
Provide constructive feedback and criticism
Differentiate between communication styles
Prevent conflict from escalating
Recognise different expectations of conflict management
Discover and refine your approach to conflict management
Rebuild trust after a conflict
Participating was a step out of my comfort zone into a new world where I discovered completely unknown things about myself.
Graça Ricardo, communications and security advisor, Helvetas in Mozambique
Read her testimonial
Registration
Online Workshop on Conflict Management
CHF
400 (members: CHF 300)
Workshop spread over four half-days:
Dates: 16, 17, 30, and 31 October
Time: 09:00 to 12:30 (Swiss time)
Register now
Discount for cinfo member organisations
Employees of organisations that are members of cinfo receive a discount of CHF 100.
To obtain the discount code, please contact us by e-mail or by phone at +41 32 365 80 02.
Email us
Participation requirements
Make sure you have
a working computer with audio and video capabilities.
a stable internet connection.
access to Zoom, Google Docs and either YouTube or Vimeo.
Certification
Upon completion of the workshop and completion of the evaluation form, cinfo will issue you with a certificate of participation.