Swiss presence in multilateral organisations
Promotion of Swiss applications in the UN and multilateral development banks
When you apply for a job in a multilateral organisation, you are competing with professionals from all over the world. This means your chances of success are low, even for the most qualified applicants. Let cinfo help you optimise your application and support you throughout the recruitment process.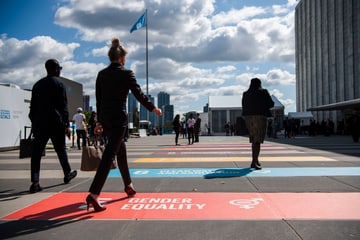 Our support at a glance
Target group

Needs

Available services

Swiss nationals with relevant professional experience.

n.b. Swiss nationals with less than 5 years' experience can apply to our talent programmes.
More about the talent programmes

Get information and support for job applications to a UN organisation or multilateral development bank.
Why go through cinfo
As a member state of the UN and a stakeholder in multilateral development banks, the Swiss Confederation is striving to increase the presence of Swiss professionals in various multilateral organisations. cinfo, the Swiss centre of competence for careers in international cooperation, has been mandated by the SDC and SECO to attract Swiss candidates and support highly promising candidates in application processes.
Our experienced HR advisors are in contact with the HR departments of the focus multilateral organisations as well as with the relevant specialists at SDC and SECO. Getting information and support from cinfo can therefore, increase your chances of success.
"
I wouldn't be here if cinfo didn't exist. As a Swiss national with the United Nations, you are looked after and supported very well by cinfo.

This is extremely important as Switzerland continues to be underrepresented in UN organisations.
"
"
I was at a crossroads in my career, and someone suggested I should explore opportunities with the UN. But I had no clue how or where to apply.

I learned about the forum. There I had the opportunity to submit my CV for feedback. I spoke to a UNFPA HR professional. The discussion was fruitful, and he guided me on the way forward. This was my entry point to the UN.
"
"
Through cinfo, I learned about job opportunities with UNDP that I didn't know about at the time. cinfo also provided me with the opportunity to discuss personal questions and concerns related to my career with a professional career advisor.

Looking back, this support was decisive. I wouldn't have learned about and taken a decision to work for UNDP without cinfo.
"
Information, advice and talent pool
What are your career options in multilateral organisations? What are the entry points?
How can you achieve specific career goals in multilateral organisations?
Address your individual situation, questions and needs at a career session with one of our coaches.

Career Advice
How can you keep up to date with the latest job opportunities in multilateral organisations?
Create your profile on the cinfoPoste job portal. You will be added to our talent pool and receive notifications of new opportunities. All vacancies at our focus multilateral organisations are advertised on cinfoPoste. For certain jobs where we actively source suitable candidates, you may be contacted directly by our recruiters.

Join the Talent Pool
Networking with employers and experts
How can you get first-hand information from, and network with HR specialists, recruiters and experts?
Do not miss the Forum cinfo, the Swiss event on work and careers in international cooperation, and our "Behind the Scenes" event series. Some events are webinars, others take place in Switzerland or in the countries where the multilateral organisations are based.
Candidate support
How can you make your application documents stand out?
Register for job application support. Our coaches review your application from a recruiter's perspective, and provide advice on how to improve your CV, P11 or other online form or motivation letter.

Job Application Support
How can you get your application flagged?
When you get invited to the first round in the selection process (written test/interview etc) with one of cinfo's focus multilateral organisations, we inform our partners in the federal administration and the employer's HR department to support your visibility.

Application Flagging
Invited to an interview or assessment centre? cinfo can help you prepare.
Any questions?
Get in touch

Assistant HR Marketing & Recruitment
Get in touch

Caroline
Johnigk Schlenk
,
cinfo
Assistant HR Marketing & Recruitment