Information and networking events
Forum cinfo
Immerse yourself in the world of international cooperation at Forum cinfo.
Forum cinfo is the Swiss career event for international cooperation. It inspires, informs, facilitates networking, and provides a setting to gain new perspectives and broaden your horizons. It connects professionals at all stages of their careers with a wide range of internationally active organisations – and is an excellent opportunity to make new contacts and open doors.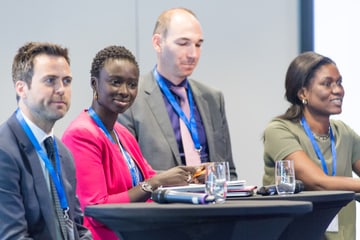 Location
Berne (Wankdorf Center) and online
Target group

Needs

Upcoming Forum

From experienced to junior professionals in international cooperation, to career changers, graduates and students.

Learn to navigate the labour market
Find inspiration for your career, work and job search
Make new contacts

Save the date: 11 November 2022
More information to come
Unique event in Switzerland
cinfo organises the Forum, the only career event for international cooperation in Switzerland. It is geared to the needs of a wide range of actors and represents the commitment and dynamism of an entire professional field.
"
I was at a crossroads in my career and someone suggested I should explore opportunities with the UN. But I had no clue how or where to apply.

I learned about the Forum cinfo. There I had the opportunity to submit my CV for feedback. I spoke to a UNFPA HR professional. The discussion was fruitful, and he guided me on the way forward. This was my entry point to the UN.
"
Forum cinfo at a glance
Information booths from employers and educational institutions
Consultation corner with a range of services for participants and organisations
You benefit from a huge range of information and advice services, which you can freely choose from according to your interests.
Input presentations
Large group workshops
Panel discussions
Short presentations by participating organisations
Learn what's happening in the sector and get updated on current trends through presentations and discussions.
Overview of cinfo services
CV check
Quick introduction to the job portal cinfoPoste
Consultation zone for appointments for one of cinfo services
Get input on your CV or application dossier – or treat yourself to a brief consultation on another topic related to the profession.
Network with representatives from organisations throughout the fair
Speedmeetings / 1 to 1 meetings
Informal networking: bar, lounge, after work
Make valuable connections for the future and review the day's events with other participants in an informal atmosphere.
Forum cinfo 2018
The Art of International Cooperation
16 November 2018, Stade de Suisse, Berne
Forum cinfo 2016
A Journey in International Cooperation
28 October 2016, Stade de Suisse, Berne