Information and networking events
Forum cinfo 2018
Forum cinfo, the Swiss event on work and careers in international cooperation, took place on 16 November in Berne.
Over 1400 participants, either already active or interested in becoming involved in humanitarian aid, development cooperation, and peace promotion had the opportunity to get to know more than 60 organisations from this field.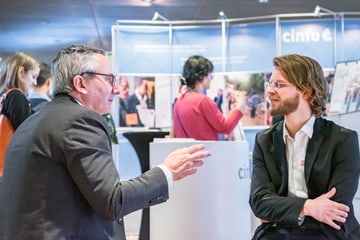 Forum cinfo 2018 at a glance
The Art of International Cooperation
There are rarely well-defined procedures for a career in international cooperation. It is more like a winding path, where professionals encounter unexpected twists and turns that can be confusing, but usually also enriching. Which is why knowing how to orientate oneself in this sector is an art. Forum cinfo revealed countless potential career routes to participants, along with the inherent challenges.
Networking opportunities and more
With over 60 international and Swiss organisations taking part – including state actors, NGOs, UN organisations, international financial institutions, foundations, and educational institutions – Forum cinfo offered each participant opportunities to get to know these multiple actors, explore career opportunities, and create new professional contacts.
Pierre Krähenbühl as keynote speaker
Highly inspiring was the talk by Pierre Krähenbühl, Commissioner-General of UNRWA. The most senior Swiss in the United Nations system spoke about the issues of working in highly fragile local contexts and the implications for managing teams, programmes and organisations. The keynote was followed by a panel discussion with Christine Beerli, President of cinfo's Foundation Board, and Manuel Bessler, Head of Swiss Humanitarian Aid (SHA within SDC).
Numerous additional presentations and conferences, as well as practical workshops, took place throughout the day.
Forum cinfo 2018 in 90 seconds
Managing in uncertainty
Uncertainty has become the rule rather than the exception in international cooperation. Pierre Krähenbühl, the most senior Swiss in the UN system, provides insights into the implications of highly fragile contexts on managing teams, programmes and organisations.
Christine Beerli-Kopp, President of cinfo's Foundation Board and former Vice-President of the ICRC.
Manuel Bessler, Delegate for Humanitarian Aid and Head of SHA; Deputy Director General SDC
Pierre Krähenbühl, UNRWA Commissioner-General
The art of getting into international cooperation
The path into international cooperation is rarely linear. But there are recurring patterns and small steps can have a big impact. Scott Breslin reveals some surprising facts and trends that can make the difference when you are starting your career in international cooperation.
Scott Breslin, International Director of Operation Mercy and Senior Advisor at the Nordic School of Management
How to get yourself recruited?
How are applications screened and how can you improve the chance of your application being noticed by a recruiter? What are some common mistakes to avoid? And how and where does an organisation find the best talent? This panel discussion lets you into the mind of a recruiter. Recruitment specialists and HR directors speak about their processes and the latest trends in recruitment, providing you with tips on how to get the job you want.
Anne Boss-Wabitsch, Team Lead Recruitment and Counsel, Swiss Red Cross
Mark Hawkes, Recruitment Coordinator, Medair
Eva Mennel, HR Director, UNICEF
Young and talented? Our programmes for Swiss nationals
Entry level positions with the UN and multilateral development banks are rare. However, they do exist! And some are even reserved for Swiss nationals. What are these positions? What are the prerequisites? How can you apply? How have former participants taken advantage of this unique opportunity and what are they doing today? cinfo presents the Swiss Young Professional Programmes for people under the age of 33 (JPO – Junior Professional Officers) and 29 (UNYV – UN Youth Volunteers).
Nadine Brou, Programme Officer at UNAIDS, former UNYV with UNESCO and former JPO with UNAIDS
Stephan Eggli, Programme Manager at SECO, former JPO with The World Bank Group
Nora Landheer, Outreach and Recruitment Specialist, cinfo
Philippe Puyo, Programme Manager Global Institutions, SDC
Opportunities in the private sector: entrepreneurship, sustainable finance and impact investing
Private companies, aid agencies and multilateral development banks are increasingly joining forces, including by investing in firms and enterprises that contribute to poverty reduction and sustainable development in emerging and frontier markets. What are the career opportunities in this area? Do you need specific skills and experience to get into impact investing or sustainable finance? What are the implications in this respect for public actors?
Thierry Buchs, Head of Policy at Obviam
Sabine Döbeli, CEO Swiss Sustainable Finance
Raymund Furrer, Head of Economic Cooperation and Development, SECO