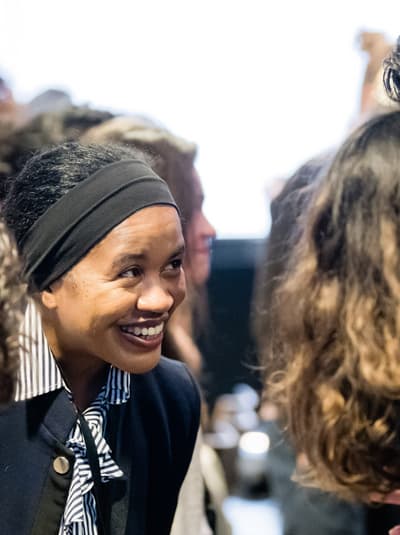 Immersion Day 2023
Friday, 03 November
Biel-Bienne, Switzerland
🌍 Online for global participants
"Mirror, Mirror on the Wall, who is the Fairest of them All?"
Reflecting on Your Role in Locally Led Practice

Friday, 03 November 2023
09:00-17:00 (Biel-Bienne)
02:00-10:00 (Bogota)
11:00-19:00 (Nairobi)
15:00-23:00 (Vientiane)
Join us for a transformative event
The movement to shift power, work more inclusively and achieve more locally led practices has been underway for over a decade. At the heart of this shift is the individual. Have we made enough progress? And if not, how can we as individuals cultivate practices that drive collective change?
Your participation matters!
Join us for a transformative day with your global peers. Together we will explore a new system and more impactful partnerships by challenging our thinking, emotions and interactions.
Illustration by Ikem Smith from Kingston, Jamaica, winner of a global design contest organised by cinfo.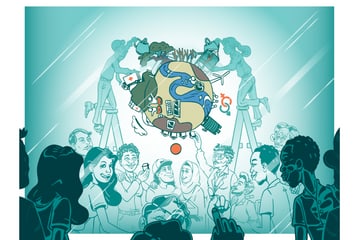 Your takeaways
You will...
✔️ Explore the impact of your thinking, engagement, relationships and collaboration on your work and environment.
✔️ Challenge your existing narratives and attitudes.
✔️ Feel empowered to share ideas and contribute to concrete initiatives towards more equitable partnerships.
✔️ Take the first steps in your individual and institutional transformation process.
Who can benefit
An inclusive event for global cooperation
The Immersion Day is open to all professionals involved in global cooperation, humanitarian action and peacebuilding, regardless of their role or geographical location. We emphasise the inclusivity of all functions and locations, providing a unique opportunity to share, collaborate and network among professionals with diverse backgrounds and expertise.
We invite you to embark on an immersive experience that unfolds throughout the day, with three distinct areas that inspire reflection, connection and collaboration.
Morning programme
Zone 1: How do we relate to ourselves? Why does it matter?
Self-Reflective and Somatic Experiencing
Explore self-awareness and self-compassion in Zone 1. Connect with your body, breath and emotions. Discover how your relationship with yourself impacts your work and well-being. This zone is a catalyst for personal growth and self-discovery.
Zone 2: How do we relate to others? How important are self-empathy and self-compassion in fostering deeper connections?
Experiential and Relational
In Zone 2, deepen your human connections. Engage in dialogue, exercises and deep listening to nurture empathy and compassion. Learn compassionate communication, forgiveness and gratitude. Cultivate equanimity and foster meaningful connections.
Zone 3: What is our collective responsibility? How are we all interconnected?
Interactive and Participatory 
In Zone 3, broaden your horizons. Explore diverse knowledge, intercultural competence and socio-emotional skills. Engage in interactive activities that foster collaboration and reveal our interconnectedness. Let's drive positive change together.
Afternoon programme
Zone 4: How do we listen to others? How do the narratives we hold and the stories we tell affect our work?
Self-Reflective and Somatic Experiencing
In Zone 4, explore the power of listening and empathy. Reflect on the narratives we hold. Take part in the story chair activity to understand how our narratives shape our work. Join us to cultivate empathy and gain insight into the stories that shape our practice.
Zone 5: How does power & privilege affect your opportunities, effectiveness, and impact?
Experiential and Relational
In Zone 5, explore power dynamics and privilege. Engage in exercises that highlight our privilege, access to resources, capacity and recognition. Experience relationships, attitudes, power dynamics and biases to enrich your world view towards a more equitable and inclusive environment. Join us to deepen your understanding and drive positive change.
Zone 6: Have you ever wondered what your role is in creating a fit-for-purpose sector?
Interactive and Participatory (Engaging with Wider Systems)
In Zone 6, explore equitable partnerships. Engage with your peers to explore what the future might look like in our research partnerships, fairer working conditions and effective funding relationships. Generate concrete ideas through collective brainstorming. Let's shape an inclusive and impactful sector together.
Secure your seat
On-site ticket (Biel-Bienne, Switzerland)
CHF 150
30% discount for staff of member organisations: CHF 105
50% discount for Swiss in multilateral organisations: CHF 75
To benefit from a discount
Ask your employer for the secret code or contact us: info@cinfo.ch / +41 32 365 80 02.
When you register, click on "Redeem Coupon" and enter your code.
Online ticket for global participants
CHF 120
30% discount for staff of member organisations: CHF 84
30% discount for local partner organisations of members: CHF 84
50% discount for Swiss in multilateral organisations: CHF 60
To benefit from a discount
Ask your employer for the secret code or contact us: info@cinfo.ch / +41 32 365 80 02.
When you register, click on "Redeem Coupon" and enter your code.
We are flexible
Do you have a specific request or need more information?
Are you a self-paying global participant with limited financial means? If your participation is not financially supported by an organisation and the ticket price is a financial barrier, please contact us to receive a 50% promo code on your online ticket.
Cancellation policy
Tickets are transferable. For cancellations received within 3 weeks of the Immersion Day, 50% of the ticket price will be retained. Cancellations received more than 3 weeks prior to the Immersion Day will be refunded less CHF 50.
Capacity building with cinfo
At cinfo, we promote open dialogue on global cooperation issues and support individuals and organisations in strengthening their efforts towards locally-led practices. Our experience and understanding of the development and humanitarian sectors allows us to tailor our services to meet different needs.
Our recent competency study has provided insights into future skills to promote equity and create a more impactful sector. We can help you navigate the complexities of development and humanitarian action, giving you greater clarity, courage and confidence.