Working at a development bank
Opportunities and challenges of working at a development bank
Why work for an international financial institution? And what challenges could you face? Find out more about this type of employer and the job opportunities.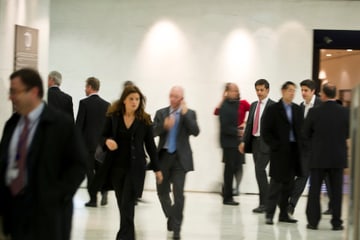 A unique opportunity
Development banks, also called international financial institutions, provide excellent career opportunities for professionals with various backgrounds to thrive in a highly diverse and professional working environment.
You will gain exposure to an environment that is likely to be substantially different from what you are used to.
When joining an institution, you will work in multicultural teams, live in foreign countries, and gain exposure to an institutional environment that is likely to be substantially different from what you are used to.  
You will be able to expand your expertise on a specific country or region while working with a diverse group of people in competitive international conditions. You will have the opportunity to move between different organisational sectors and locations, where you can extend and share your experience and skills.  
You will contribute directly to economic and social development in countries in need, which will not only give you a fresh outlook on your career but also give fundamental meaning to your work.  
Finally, work experience with development banks can be an asset in a subsequent job search in the public or private sector in your home country.
... with some challenges
Whether you are based at headquarters or in the field, most operational positions are full-time and travel is frequent.
It is not always easy to adjust to a lower standard of living in developing countries. Although the international financial institutions offer increased security and additional benefits in some countries, living there can be challenging. Most staff members appreciate travel or deployment to the field, as it allows them to directly influence and witness change.
In many institutions, initial appointments are fixed term.
In many institutions, initial appointments are fixed term and employees are required to seek a subsequent position if they wish to continue working for the institution. Although this may seem daunting at first sight, in reality development banks offer some job security and staff turnover is low. A technically broad profile, with good personal skills and a solid performance record, increases your chances of getting a contract extension or an internal transfer.
Focus work areas
Multilateral development banks operate on the premise that strong economic institutions lead to social and economic development, particularly in fragile states and those most affected by poverty. 
The recent global focus on environmental sustainability has also led to new projects that promote renewable energy and address climate change. Other 'cross-cutting solutions areas' common to these institutions are gender, public-private partnerships, and anti-corruption. 
These institutions seek to reduce poverty and to support sustainable growth.
The institutions continue to focus on low and middle income countries. Beyond the key objectives of poverty reduction, social equality and sustainable economic growth, the focus has expanded to further sectors, including education, governance and rule of law, private sector development, and environmental resource management. 
Contrary to common belief, international financial institutions do not hire only engineers and economists but seek specialists in a broad range of fields. These include: 
social protection
natural resource management
law
urban development
public health
engineering and IT
gender
climate change
public-private partnerships
banking
human resources
communications
Our services – to take you further
cinfo supports Swiss professionals considering a career with the UN or a development bank, and those already in the system: