Opportunities and challenges of working at a development bank
Staff positions at a development bank
Would you like to become a staff member of an international financial institution? If so, you will need a relevant educational background, several years of work experience, English proficiency, and a range of 'soft skills'.
Most positions at international financial institutions are externally advertised and open to internal and external applicants. International positions are open to applicants from all around the world; the selection process is highly competitive. Therefore, you will only be considered if your profile matches the experience and skills required for the position.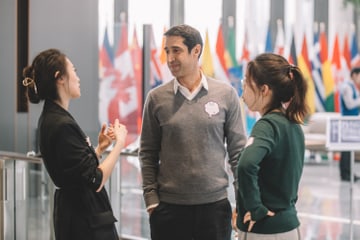 About the minimum requirements
Needs vary according to the institution's thematic focus. In general, private sector experience is highly valued, and applications from corporate professionals or other professionals with relevant experience are welcome to apply. 
Some institutions, such as the IFC and the EBRD, need more candidates in finance and economics than others. Find out which profiles are regularly sought at ADB, AfDB, AIIB, GCF, IDB and the World Bank.
Most international staff positions require a Master's degree or PhD along with a minimum of 4-5 years of relevant work experience.
Fluency in English is a must, additional languages may be required or are desirable. In addition, successful applicants must demonstrate a number of 'soft skills', such as:
commitment to and understanding of development issues 
team work
client engagement and communication
leadership and problem-solving skills
initiative and creativity
competencies in project management, planning and organisation
writing and presentation skills
Salaries and benefits
As international financial institutions hire specialists from both public and private sectors, they offer competitive (usually tax-exempt) salaries with attractive benefits, such as:
medical insurance for staff and dependents
life and disability insurance
annual leave
attractive pension scheme
International staff working in a country of which they are not a national receive additional compensation and support, such as: 
full relocation and installation allowance
housing assistance
children's education grants
Career development
Career advancement modalities are generally flatter in development banks than in the private sector and employment after the end of a contract is not guaranteed. Nevertheless, these institutions are quite job-secure and staff turnover is very low.
When working for a development bank, you should become familiar with the institution's organisational staff management framework, which defines transparent guidelines and regulations regarding promotion and career development.
To advance within an institution, you are encouraged to define a direction, create a personal development plan, and consult with managers on performance and aspirations.
Given the broad range of thematic areas and functions, sectoral and geographical mobility is valued and offers many options.
Our services – to take you further
cinfo supports Swiss professionals considering a career with the UN or a development bank, and those already in the system: