Types of employers
Working at the United Nations
Can you predict what work in an organisation looks like from its status? Yes, to some extent. There are different types of actors in international cooperation. A comparison between them shows the similarities and differences that can influence work. It goes without saying that each organisation also has its own particularities.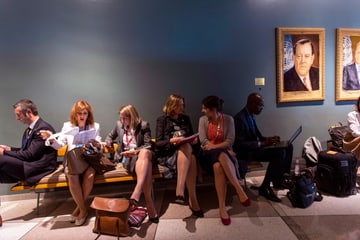 The UN at a glance
The United Nations is a multilateral organisation created in 1945 following the League of Nations to promote peace, security and international cooperation.
Over the years, the UN has evolved into a vast network of organisations (e.g. UNICEF) and programmes (e.g. the World Food Programme), with different mandates and areas of intervention. These are generally large structures financed by the community of states, and also by funds and foundations.
At the UN, states commit to defending their common interests, and the UN often collaborates with state actors.
From OCHA to UN Women, discover the diversity of UN organisations in our overview of actors:
UN organisations in the overview of actors
How does the status of UN organisation affect the working environment?
The working environment can be very different, ranging from the headquarters of an organisation in a global city to smaller representations in a "peripheral" region.
The engagement of UN organisations is more at a macro level. In other words, staff members work more on programme development, strategic issues and steering activities.
UN organisations are generally hierarchically organised, with fixed internal processes. At times, the UN tends to have a certain "bureaucratic heaviness".
The working environment is multicultural.
Because the UN engages in broad societal issues, the impact of one's own work is not always visible.
There is relative uncertainty / instability of employment at the UN, with employment contracts varying from a few months to two years.
Questions to ask yourself
Taking into account the above considerations, the following questions can help you to better define whether working in a UN organisation is right for you. Understand these questions primarily as an orientation aid, not as preconditions for making a decision.
Do you have a strong aptitude and taste for upstream work?
... such as developing strategic documents or programmes and coordinating activities.
Are you comfortable working at a level that is sometimes further away from the beneficiaries than in other types of organisations?
This question should not be taken literally: the "altitude" of work varies greatly from one UN agency to another, from one function to another.
Are you prepared to work in culturally diverse teams?
... where people do not necessarily share your Western values and ways of working? Have you already developed intercultural communication and collaboration skills?
Are you comfortable with not always seeing the fruits of your labour?
Do you thrive in a somewhat hierarchical structure?
Are you prepared to give up your ideas at times? Have you mastered the art of compromise?
Are you inspired by regular new assignments, and therefore new places to live and work?
Will you have the necessary flexibility, also in the long term?
Our services – to take you further
cinfo supports Swiss professionals considering a career with the UN or a development bank, and those already in the system: