Workshops and training
Online Workshop on Conflict Management
Our workshop for local staff and expatriates: learn how to prevent and deal with conflict.
Although they arise in the daily business of every organisation, conflicts can have serious consequences. They can erode trust, end relationships or create an environment in which it is impossible for people to work together. How do you deal with such conflicts? How do you straighten things out that have gone wrong?
The Online Workshop on Conflict Management answers such questions. It is designed for professionals who interact, implement projects and make decisions with a variety of stakeholders, often from different socio-cultural backgrounds.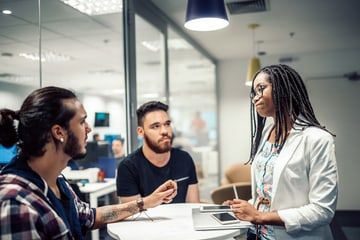 Price
CHF

400
Cancellation:
up to 5 days before the workshop, you will receive a 95% refund

Get in touch
Welcome Desk & Coordination
Methodology
A workshop based on your specific needs
We start from your own experiences and situations you have faced. We focus on analysing practice rather than theory, so that you can take away practical lessons for your daily work.
A setting that encourages interaction
Unlike many other webinars, which are online lectures, this workshop is based on maximum interaction between facilitators and participants. To avoid "Zoom fatigue", there are also moments of reading, individual reflection and small group exchanges.
In sessions 1 and 2, we introduce you to the basic elements of conflict management. You then have a few weeks to put them into practice in your work environment and in your private life.
In sessions 3 and 4, we deepen these elements and analyse some concrete situations you have experienced.
Programme
Session 1

Introduction 
What is conflict? 
The various levels of conflicts and their causes 
The various phases of conflicts 

Session 2

Different perceptions – different ways to address conflicts
Direct and indirect communication styles
Discovering one's own conflict management style
Differentiating incomplete and complete messages

Session 3

Building and managing trusting relationships 
Developing active listening skills 
Announcing bad news and conducting difficult conversations 
Analysis of a situation provided by participants 

Session 4

Giving and receiving feedback and criticising constructively
Addressing conflicts before they become damaging
Examining which interlocutors trigger conflicts in us
Analysis of a situation provided by participants
Takeaways – You will develop the basic skills to
Distinguish between the different levels of conflict and their causes
Build and manage trusting relationships
Give feedback and criticise constructively
Distinguish between direct and indirect communication styles
Defuse conflicts before they become damaging
Identify the different expectations of staff members in relation to conflict management
Discover your own conflict management style
Restore trust after a conflict
Participating was a step out of my comfort zone into a new world where I discovered completely unknown things about myself.
Graça Ricardo, communications and security advisor, Helvetas in Mozambique
Read her testimonial
Requirements for participation
Make sure that you have a working computer with audio and video functions, as well as a stable internet connection.
Also check that you have access to Zoom, Google Docs and YouTube / Vimeo.
Certificate of participation
cinfo will issue you with a certificate of participation at the end of the last session upon completion of your workshop evaluation form.