Blog
Making innovation visible
Maya Shah, Innovation Coordinator at Médecins Sans Frontières, believes innovation is a permanent challenge to the status quo. For her, innovation must be done in partnership in order to work and be scalable.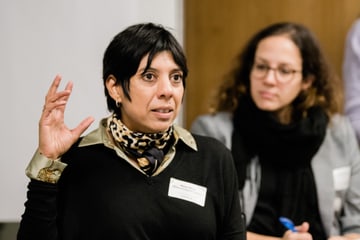 The origin of this blog article
At cinfo's 2019 Immersion Day "Shaping the organisation of the future", we asked 14 professionals why and how their organisations have taken the path of transformation. Their stories were told in different workshops on the topics of user-centric projects, new HR, digital tools and leadership.
Check out the 14 inspiring stories
Maya, what does innovation mean to you?
It means challenging the status quo and always doing better. In our specific context, the challenge is to bring western medicine and quality of care to our patients living in low resources settings, without proper structures, maybe without electricity or internet access. How can you bridge this gap? This is the purpose of innovation at Médecins sans Frontières. Humanitarian medicine can be perceived as providing second-rate care to poor people. However, MSF has shown that innovative treatments and strategies allow contemporary medical care to be provided in contexts that require unconventional approaches.
What challenges is Médecins sans Frontières (MSF) currently facing in terms of innovation?
MSF has been an innovative organisation since it was created. We are now developing processes to make innovation more systematic. At the same time, we want to avoid too many processes, because innovation is also about creative freedom.
MSF is currently developing an internal ideation platform. What is its goal?
The platform is called 'Think Up' and is used to capture ideas from the field and share them across the organisation, from one project to another, in different countries. The goal is to make innovative efforts visible – whether it concerns a tablet for Ebola or a power generator – and find synergies and inspiration. Its purpose is also to work collaboratively. We offer people in missions, headquarters and field offices a space where they can collaborate and create communities of practice.
The innovation team at MSF was initially a separate unit before becoming an internal support unit. Why this transformation?
This change reflects organisational maturity and culture. At the time when we were a separate unit, MSF did not really have a culture of innovation. Our team managed the innovation projects itself, sending the signal to other departments that innovation only happened in our team. Then, gradually, the organisation matured; we realised that we did not actually need a separate unit and so we became a service to the different departments. We function as a catalyst; we help to establish partnerships or search for resources, such as human, expert and financial resources. We help to put in place co-creation and design workshops. We are no longer innovation project managers: our mission is to help others in their own projects.
The innovation unit became a service to the different departments.
Is there a specific mindset that fosters innovation?
Yes, not being risk averse. Obviously, organisations should not take harmful risks, but there should be room to experiment with new solutions. And then you need direction and a leadership that is ready to make this creative space available. You need political will, the ability to point out what is not working, and the right to fail.
What qualities are required to be innovative?
Being innovative is about being solution oriented. And in my opinion, when you work in the difficult contexts in which MSF is active, without access to the resources available in our countries, you learn to innovate – because you learn to make do with what is around you to provide the best quality of care. I don't think anybody in the humanitarian or development field thinks "I am not going to do my best job". And when they try to do their best in their job, and try to be solution oriented, they become innovative.
When you try to do your best in your job, you become innovative.
Our publication – to further inspire you